OUR DEAREST ENTREPRENEUR, 2022 IS ALREADY HERE!
I wish you all the Spectacular New Year!
You did it! You survived the strongest blow of Mother Nature! You and your Hope gave a befitting reply to the Apocalyptic Covid-19 induced Pandemic. It didn't have the strength to tear you apart!
The moment is ripe and right for you to step in and launch your own most advanced Multi-Billion US Dollar Go-Jek Clone - KingX 2022 Apps to make easy and quick money in the shortest period possible.
This new KingX 2022 App is robust and has Trending Features like Uber like Taxi (with Rental and Car Pool), Deliver Anything - Anywhere - Kind of Advanced Uber Delivery, Feature that provides Users to Order/Buy from Good, Grocery, Pharmacy Stores and get Items Delivered Instantly, Feature that provides Users to Consult via Online Video with Doctors, Tutors, Fitness Experts, etc, Feature that provides Users to Receive Bids from Handymen for their Tasks and select the best One and 60 PLUS On Demand Services.
And you as App Owner would make commission on every Service thak is Booked through the Apps and Website.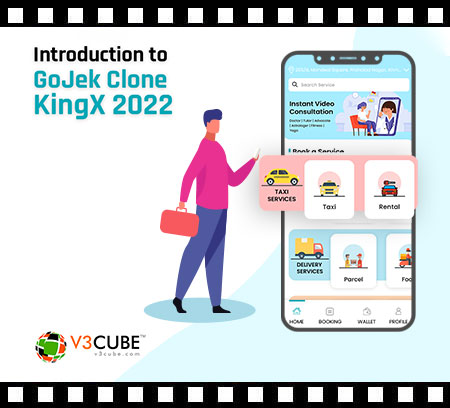 more than 1200
MOBILE APPLICATIONS LAUNCHED SINCE JAN 2016 TILL DATE.
Our dedication towards bringing better and smarter solutions for our clients is the sole reason for our success. We aim at mobilizing the use of latest in the world of technical infrastructure to produce surreal apps that can be the stepping stone for the success of our clients.
We love our work and have gained expertise in Designing and Development of Websites, Mobile Apps for Android & iPhone/iOS Phones and Wearable Devices Apps through years of practice and perfection. We have perfected the clone scripts of many well-known Apps and Websites like Taxi, all Services On Demand, Ride Sharing, etc and we offer them to our clients at most economical rates.
GET ENTHRALLED
WITH THE V3CUBE APPS!
If you have an awe inspiring idea for a business and want to watch it materialize, we are the solution. Our team of highly skilled expert professionals nurtures the seed of your ideas and helps it grow into a profit bearing tree.
Our interactive Mobile applications will make you forget average dreary and mundane apps by morphing them into ground breaking profit generating modern apps. Our application and website clones of some the most prominent sites are the perfect solutions to bring that buzz into your business. Ready to go live in just two days, they are the perfect solution to kill the monotony and bring fresh rewards back into your business.
In today's highly competitive business world, it is a matter of survival of the fittest and the most inventive. In the digital world, your inventions should be exclusive in order to be able to withstand the competition and that is why we at V3CUBE work tirelessly to provide exclusive, unique and powerful solutions. We design and provide products that will stand the test of time in today's highly competitive world, and ensure that your product will weather any storm and make you a force to be reckoned with.
Find buying online a challenge? Don't worry at all! Our sales support team is the best in the market who guide you through the entire process and provide you the app of your dreams. For all your Mobile Application, Custom Web Development and Wearable Devices Development or any similar requirement, call the experts at V3CUBE.
2 APPS LAUNCHED
EVERYDAY

1200 APP
LAUNCHED

99 % REPEATED
CLIENTS

100 % CUSTOMER
SATISFACTION
Taxi Booking Apple Watch App
Hail A Taxi With A Tap On The Wrist Using Our Apple Watch App!
V3Cube revealed a new Apple Watch App that allows your users to hail a taxi with a tap on the wrist. Technology is getting smaller allowing people to do more with less. Apple watches have become part of our daily life. Our brilliantly designed Apple Watch App magnifies simplicity and eliminates Taxi booking frictions. The app streamlines your Taxi booking, offering an influx of rides, makes hailing a taxi so good that it feels like a jiffy to book a cab. The user taps the app for the next available taxi. It works in the same way as how you book a taxi using an Uber-like App – login, choose a taxi option, request a taxi, make payment, and get notification regarding ETA.
We are living in a social awareness moment when ordering a taxi, the gesture of taking your phone out of your pocket or a bag looks a bit awkward when engaged in an official conversation or at the dinner table.
With the Apple Watch, your users can discreetly order a Taxi and safely whizz away in no time.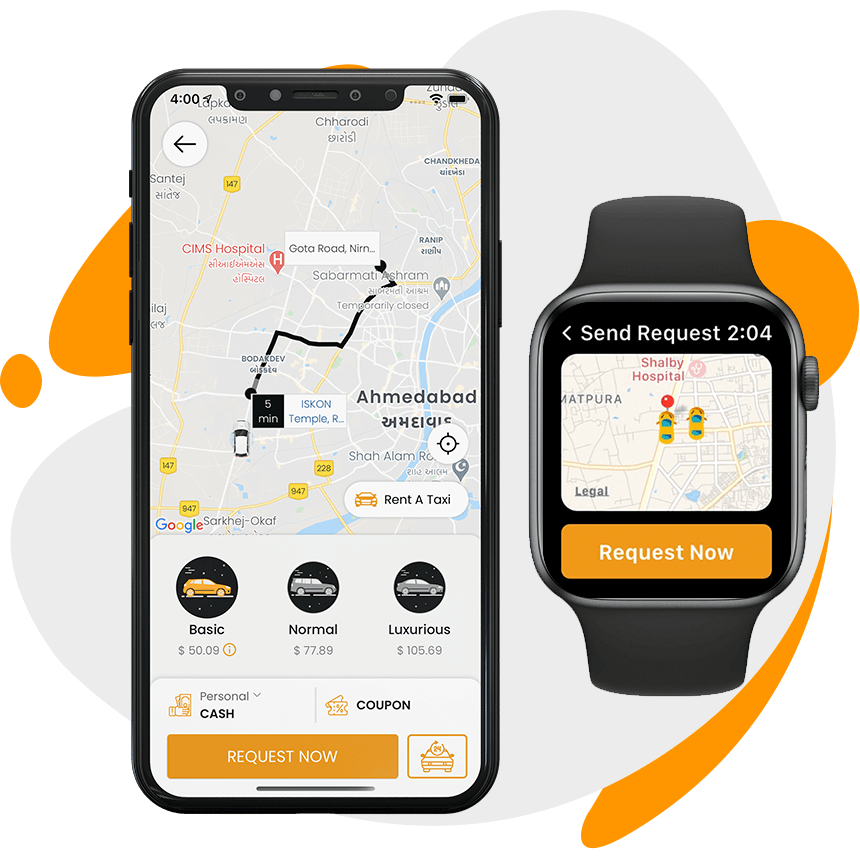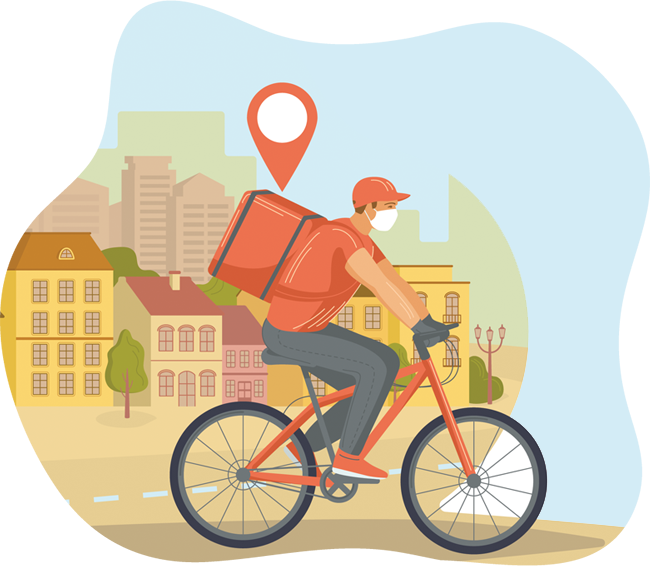 DeliveryKing App
Provide excellent services
DeliveryKing is a one-stop solution app, eliminating the need of keeping multiple Delivery Apps.
It is a well-researched scalable product built on the latest technology equipped with potential features to scale up your business to the next level. It is a combination of below listed 4 components / Apps :
Deliver All – On-demand "Store Based" delivery where you place the order for Food, Grocery, Pharmacy, etc from your nearest Stores and get it delivered right at your doorstep.
Delivery Genie – Saves you from the hassles of hoping one store to another, few taps on "On demand Delivery Expert" and the professional delivery expert takes it from there. You provide the list of Items you want to purchase and the Delivery Genie will buy it for you as per the instructions and deliver to you.
Delivery Runner - If you need something, "Delivery Runner" will get it for you. Saves your time in your daily hectic schedule and let a professional delivery expert take care of your errands pickup and drop tasks.
Parcel Delivery – Solves daily problems such as posting Parcels/Packages, sending single or multiple packages, sending last-minute gifts. This On-demand feature allows you to hire Delivery Person to Deliver any kind of Package (Parcel, Boxes, Cement Bags, etc) with appropriate Vehicle Type (Car, Cargo Truck, Truck or 2 Wheeler, etc) from X to Y Location.
V3CUBE
YOUR DEVELOPERS FOR LIFE
We, the proud V3Cubians work with the simple mantra to deliver perfection and the best to our clients.
Watch this video to hear our client's past experience of working with other companies in their 10-15 year long tenure and how those companies took hefty money but were not able to deliver the product that they promised.
And how the clients had to hire other developers to fix the flaw in the Apps that were delivered to them by those companies.
Thereafter hear them share their experience, working with V3Cube.
Listen to them as they discuss how they got timely delivery of the Apps that were promised to them. And ending the video, thanking the Project Manager for their support through the process and giving V3Cube the title "Developers for Life" and encouraging other businesses to work with us.
Team V3Cube Invited and
Felicitated by Clients in Vietnam
at their Prelaunch Event of their Gojek Clone
We have always prided ourselves in ensuring fast and seamless deliveries. We met our clients in Bangkok to understand their requirements and then in just 10 days we created and delivered their Gojek Clone to them. Needless to mention, our client was extremely happy with our work. They invited us over and welcomed us with a warm heart in their pre launch party held in Vietnam. Our team was extremely overjoyed to be a part of it.
This exclusive pre launch event was a huge success. While we were there, our clients expressed their joy in being able to have found our app. We are very proud of our team's accomplishment and are certain of the success of this app. Our endeavor is to be able to help many more entrepreneurs all over the world.
PRODUCTS
WIDE RANGE OF PRODUCTS
We've done it all! Our portfolio has a diverse assortment of apps that our team has built. Need a service? We've got the app! We have been in the app building business for a very long time and are specialists in design and development of Websites, Mobile Apps for Android & iPhone / iOS Phones and Wearable Devices Apps. V3cube bestselling cloned script apps are:
View More

QUICK DELIVERY OF ON-DEMAND APPS IS IN OUR VEINS
7 days is all we need to launch your App. And from the moment you go live, you start raking in profits because that's how the business model of our On-Demand Service Apps have been designed. With the purchase of the Package, we'll also rebrand our base App with your Company's Name and Logo. We'll integrate your preferred Language and Currency for the ease of your customers no matter where you hail from.
become the next big thing
BUY OUR PRODUCTS WITH TOP NOTCH SUPPORT
LIFETIME EXTENDED LICENSE FOR 1 BRAND / DOMAIN
You just pay us once and get licenses for the code for lifetime for your Brand / Domain.
SUPPORT ALL ROUND THE YEAR
Your Technical manager will be available all round the clock for after Sales Support.
Local Currency and Language Options
Your Preferred Currency and Language Options will be added to the system.
FREE INSTALLATION THE SYSTEM ON YOUR SERVER & APPS PLAY STORES
We ensure that we'll get your Application approved on Play Store & App Store and won't get it rejected for any technical issue.
STRICTLY FOLLOWING NDA & PRIVACY POLICY
We will never put your Apps on our portfolio nor put our name on the Apps, we'll deliver you. Confidentially will be strictly maintained.
FREE UPGRADES
Free annual upgrades included as per the package that you purchase.
WHEN CLIENTS VISIT US!
It's nothing but encouragement and appreciation
V3cube's Angolan Partners Have Won The 1st Prize
In Digital Startup Competition
The South-African Nation of Angola is where we found our client a while back. These self-motivated and hard-working Angolan Entrepreneurs were ideating and trying to finalise what service to offer and build their business on.
This is where V3Cube makes a classic entrance and woo them with their Apps to the extent that they are swept off of their feet. They bought a fully-functional and market-tested app from us and started running their business in their hometown in Angola. They allowed their App Users to pay in their official currency Kwanza and browse content in Portuguese. Their App became a household name in a matter of weeks' time and they were doing well from the App Launch date itself. This is when they participated in their country's biggest start-up competition and they undisputedly won the first prize.
We had rebranded our base app with their company's name and logo and even changed their entire app's colour theme to match with the colour of the company's logo. We are so proud of our Angolan Clients for their success and achievements and feel grateful that we could be a part of it. This again is a living proof that we are the industry stalwarts and are the pioneers of futuristic clone app development business.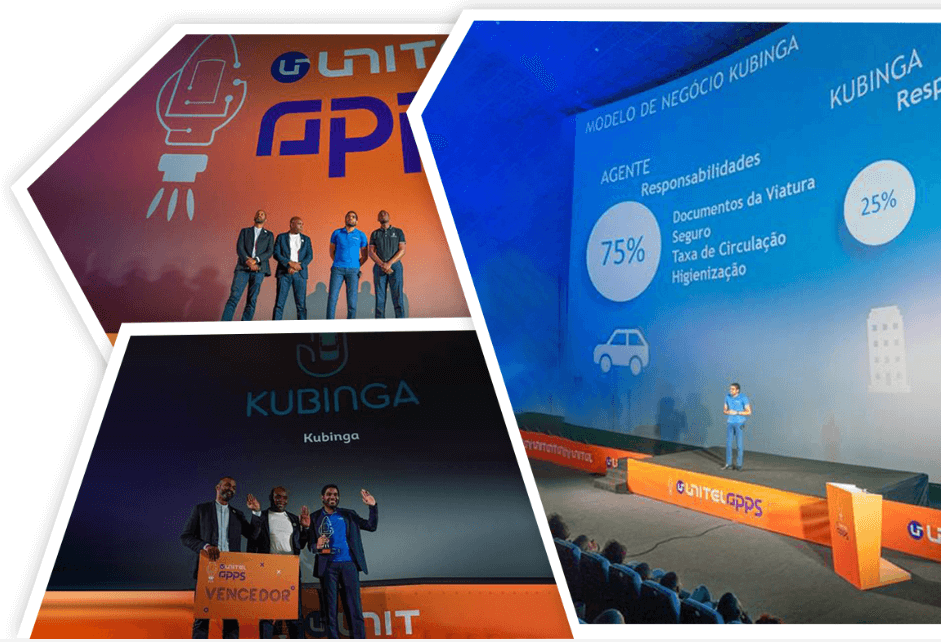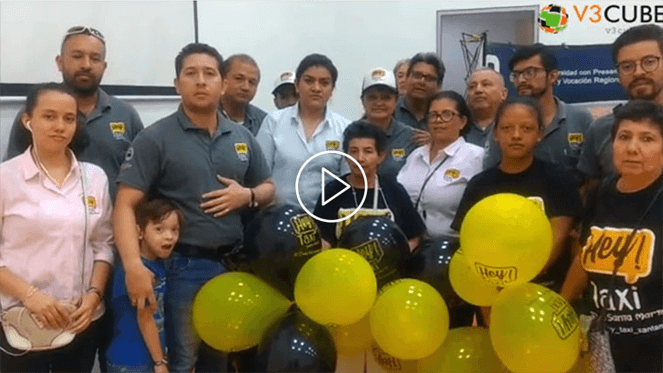 A Shout-Out To Our Clients For Their Spectacular Taxi App Launch
These Clients wanted to launch a Fully-Functional Taxi App in the shortest period possible and we gave them our word! We fulfilled our promise of providing our clients an authentic Taxi App that has been rebranded inside out with their company's name and logo.
The joyful and smiling faces in the video will tell you the rest of the story of how truly satisfied and content they were with our systematic way of working and deadline-oriented approach. In their App Launch Party, they were showering love and respect to their Project Manager for Speedy Delivery of the App.
A REAL COMPANY WITH REAL CLIENTS
Client Photographs Prove Testimony to Genuineness of Our Work Every time we deliver our clients with their desired solution, they leave behind with a smile on their face that gets captured by us in the form of a photograph to prove testimony to the genuineness of the services that we render to them.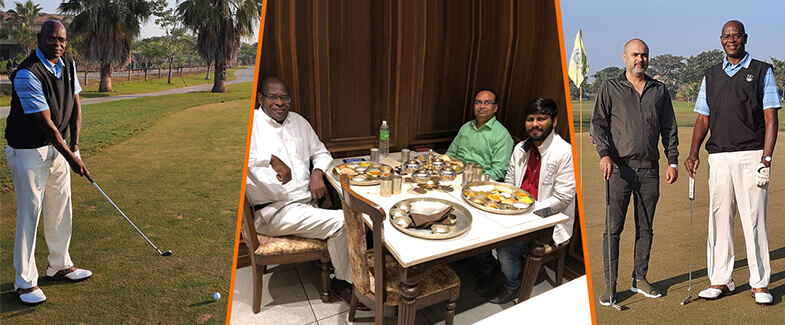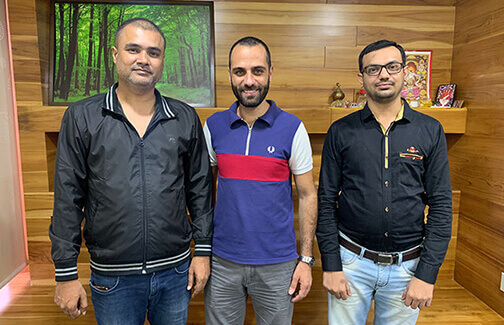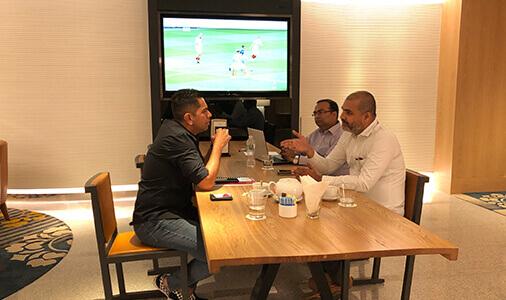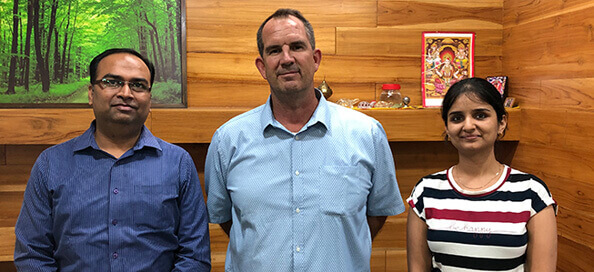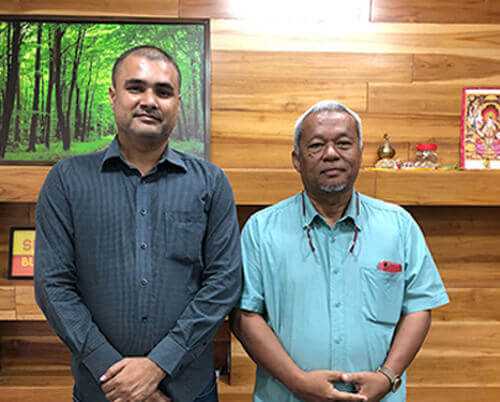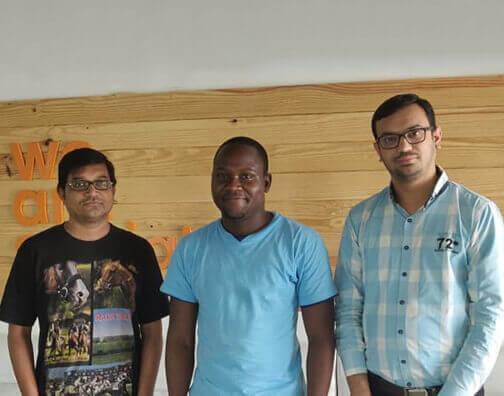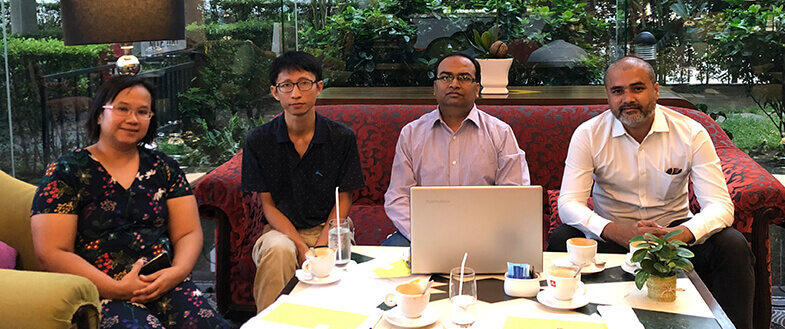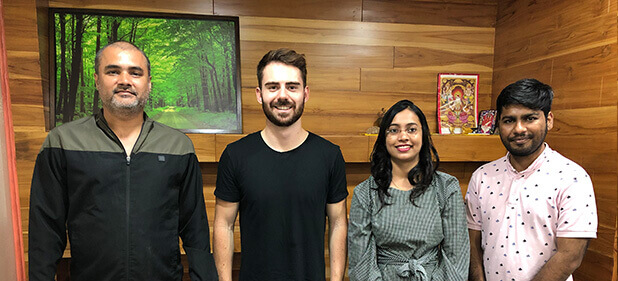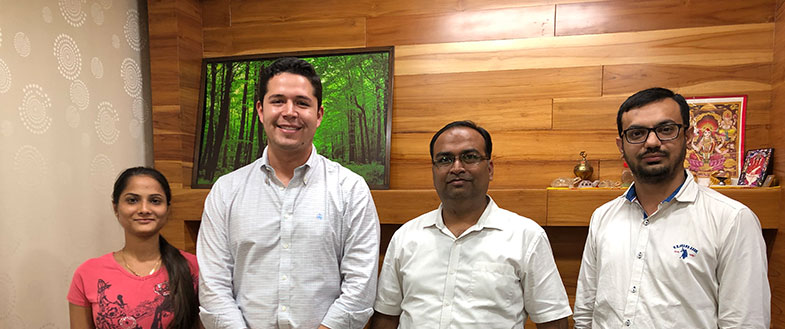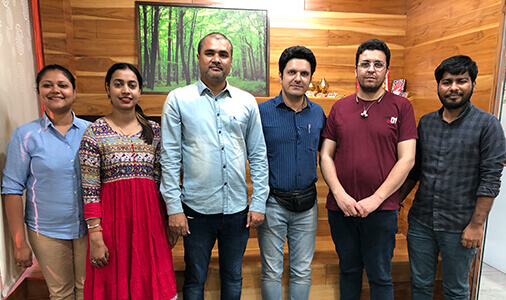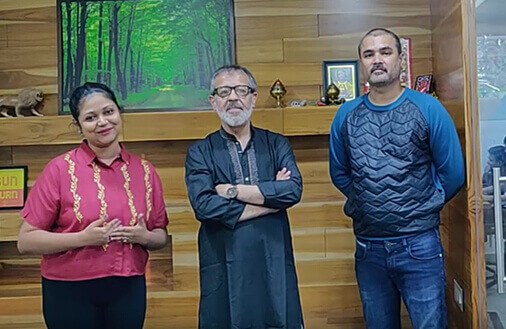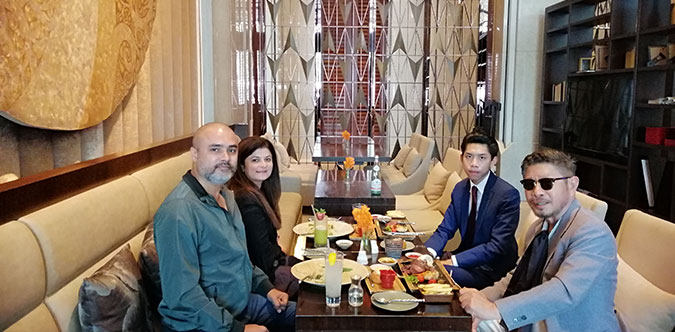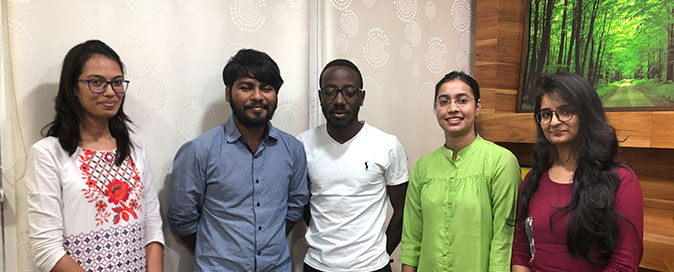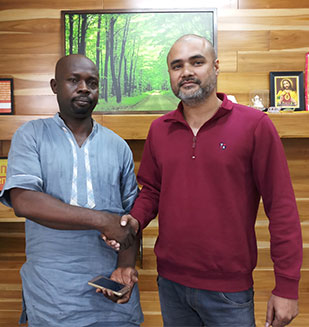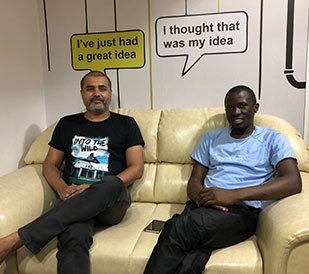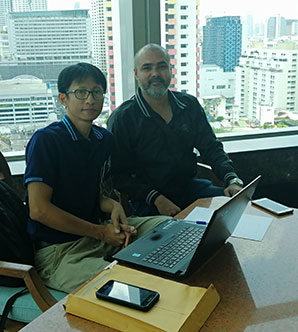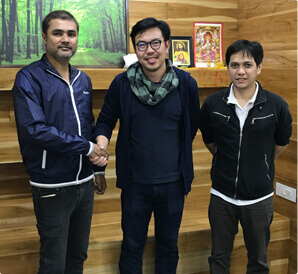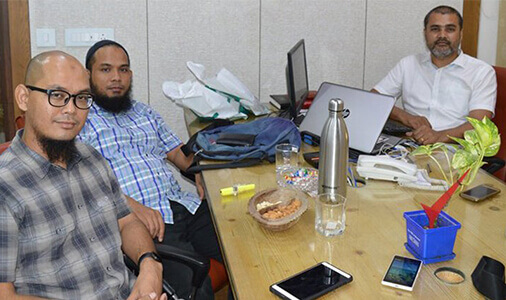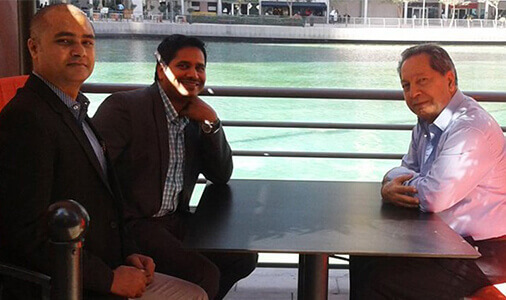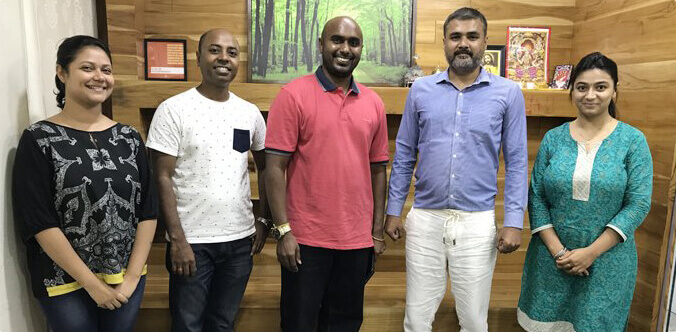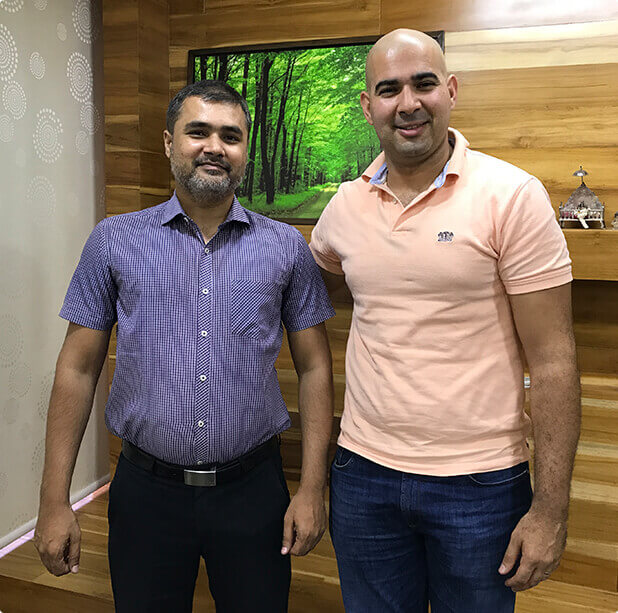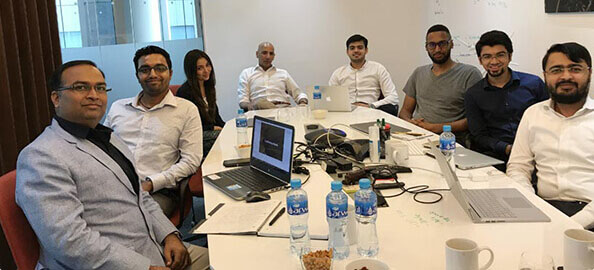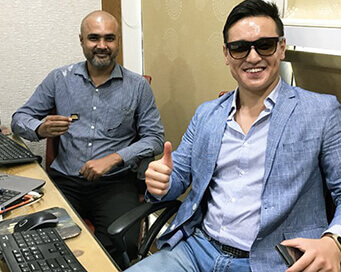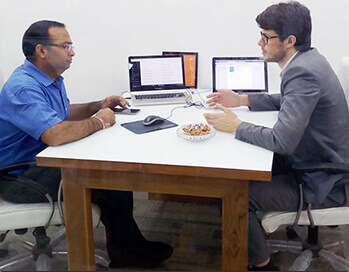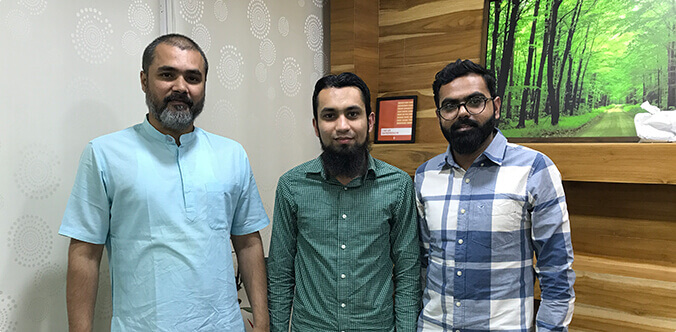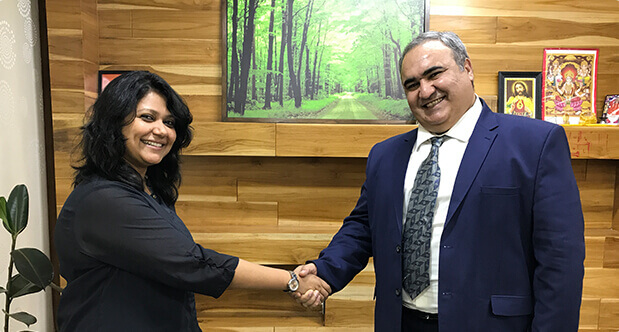 MAKING CLIENT VISITS MEMORABLE
ENJOYING A GAME OF GOLF WITH Gojek Clone CLIENT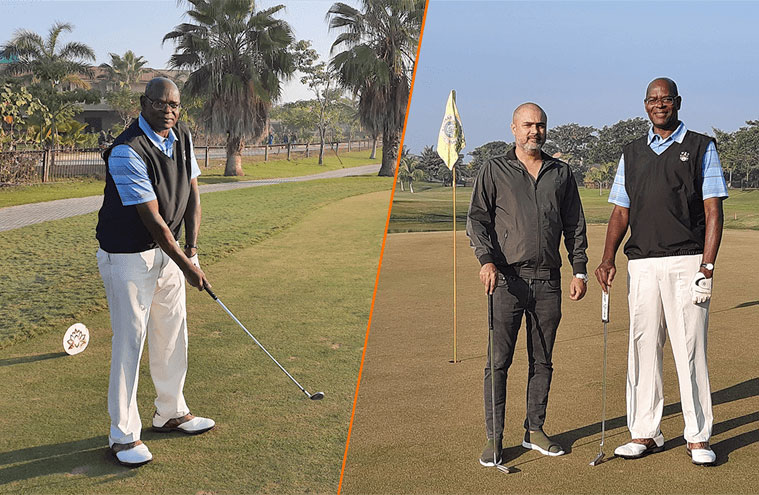 WORKING STRONGLY WITH THE MOTTO TO DELIVER nothing but perfecting keeping in mind our clients and their needs we have always delivered happiness to them with products that are topnotch. Recently we had a client from Nairobi, Kenya visiting us to get a glimpse of our development centre and purchase the Gojek Clone from us. He communicated forth his wish to play his
FAVOURITE SPORT GOLF
and we made sure to not keep him waiting. We had our manager taking him to the COUNTRY'S BIGGEST GOLF COURSE to play the game with full joy and passion and thereafter for a sumptuous and hearty dinner thereby bringing a feeling of contentment as well as joy. In case you would also like to visit us and enjoy a game or have something in mind to have a good time when you visit us in Ahmedabad do LET US KNOW we would be MORE THAN HAPPY TO BRING A BRIGHT SMILE ON YOUR FACE.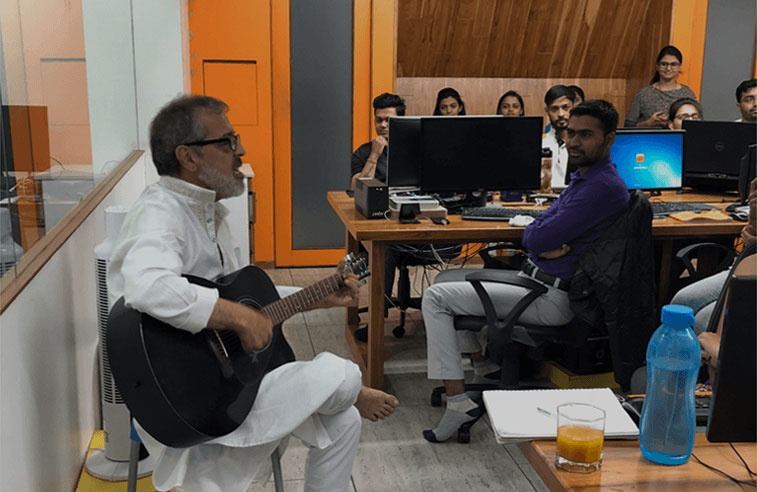 V3CUBE CLIENT ENJOYS
AN IMPROMPTU ROUND OF SINGING FOR US!
WE LOVE OUR CLIENTS JUST AS THEY LOVE US. This is why when we found out that Archivaldo, our client from Chile
LOVED MUSIC
and had a special fondness for guitars, we had to arrange one for him. He was overjoyed at having the guitar to himself as he worked alongside us to get his project done. He was so a home with us in the office that HE PLAYED SOME OF HIS FAVORITE SONGS BY CAT STEVENS AND BEATLES FOR US. The entire office was humming with excitement and was completely refueled with energy to work even harder for all the clients. THANK YOU SO MUCH ARCHIVALDO! WE LOVED YOUR SINGING AND CAN'T WAIT TO HAVE YOU BACK.
WE BELIEVE IN
HOLDING OUR HEADS HIGH AND DOING RIGHT BY OUR CLIENTS. WE HAVE A CORE SET OF VALUES THAT WE NEVER FLINCH FROM AND THESE VALUES HAVE HELPED US GROW.
INTEGRITY
We run our company with the utmost integrity as we know that reliability, honesty and diligence are the reasons why clients prefer to work with us. We always strive for success and that is why we are the best in our field.
EXCELLENCE
We are passionate about our work and work hard to make sure that our perseverance pays off. Our products have that unique mark of excellence that stands out amongst other similar products.
RESPECT
We listen to what you have to say and act according to your requirements. We respect and value all our clients and that respect is always reflected in the way we deal with you.
CONFIDENTIALITY AND SECURITY
Your confidentiality will never be compromised when you work with us. We have a default Non Disclosure Agreement with all our clients and ensure that their confidentiality is never compromised. All our employees adhere to the strict company confidentiality and security codes.
EXPERIENCE
Having been in the business since 2005, our team has a wealth of experience amongst them, which is reflected openly in our products. Our expertise in this field is match by none.
DELIVER
We aim to launch our product in approximately 3-4 days and we do exactly that. As soon as we receive setup information, we start the White Labelling Process. Every deadline committed to our clients is adhered to at all times.
BEING HUMAN
IN TIMES OF A LOCKDOWN
While the covid-19 strain of virus has affected our finances and our daily lives, the ones taking the biggest heat are the stray dogs. They almost always depend on humans for their food. Amid total lockdown, stray dogs are starving.
To help our furry canines who are out on the streets all by themselves, V3Cube partnered with an NGO to provide them good food. Bearing the baton of ensuring that no stray dog that we can see goes hungry, team V3Cube purchased loads of nutritious dry dog kibble and handed it out to our NGO partners. These kind souled brave hearts go out amid the lockdown to find and provide this kibble to the strays. Feeding Strays have been happening since April 2020 and still continues everyday till the situation becomes normal.
Right now, we humans are most fearful of Covid 19. The 2nd thing that is most feared by us is the suffering and Hospitalization Expenses we need to spend to recover from Covid 19.
The management of V3Cube is very kind and caring for everyone connected to them.
All the employees (Support, Admin, and Technical) of V3Cube have been provided with special insurance for Corona that covers hospitalization expenses for upto 5,00,000 INR.
So if you are an employee of V3Cube and fall sick due to Covid 19 in the next 1 year, you are covered by the insurance of V3Cube.
Coronavirus has taken away a lot from us, but it is the perfect time to search our souls and find our humanity. V3Cube took an oath to be a beacon for living beings. We believe it as our responsibility to give back to society.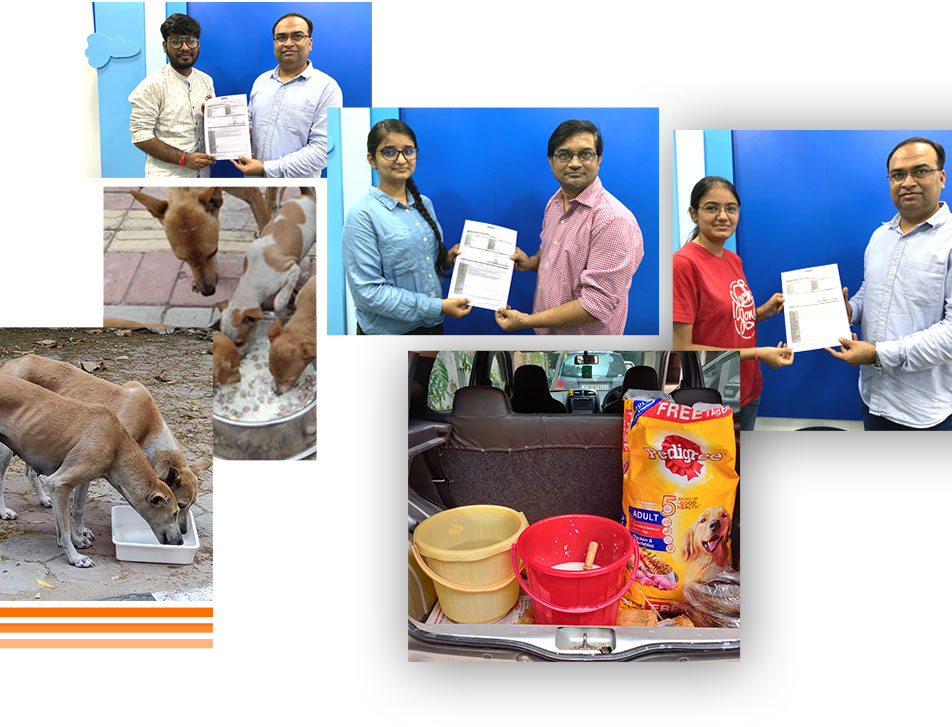 Little Acts of Kindness
Large Rays of Hope
Unless we all can be kind and care for things other than ourselves, the world will be a very difficult place to live in. V3Cube has always believed in sharing their joys and fortune with the less fortunate. Every year, V3Cube undertakes different Corporate Social Responsibility initiatives. Mostly, they focus on sharing good food, clean and hygienic meals that are packaged and delivered to the homeless. They have also been known to distribute hundreds of blankets during winters to the homeless.
However, the corona virus pandemic lockdown was hardest on un owned and free roaming animals that always depend on the kindness of passers by. This is why; they focused their attention towards them and donated 2 X Ray testing machine systems to Jivdaya Charitable Trust, a reputed NGO that champions the cause of rehabilitation and medical care for un owned animals, birds and bats. We hope to continue our efforts in this direction because every little act of kindness fosters the spirit of hope and happiness for everyone.
MAKE YOUR FIRST $BILLION
Our clients are already making more than 300,000 USD! This is the perfect time to launch the perfect App for your on-demand business – Multi Purpose Gojek Clone App, Taxi, Deliver All, Food Delivery, Grocery Delivery, Pharmacy Delivery, All in one Medical App, Car wash, Uber For X and much more! If you don't spot a solution for your business, V3Cube can build it exclusively for you.
ALRIGHT! LET'S DO IT NOW !
OUR PROCESS
At V3Cube we have dedicated ourselves to work relentlessly towards Design and Development of Apps for Web, Mobile and Wearable Technologies. Each member of the V3Cube has a dream of giving their own contribution to the field of technology. This is probably the biggest reason, so as to why we have established a reputation of being the most reliable company offering IT solutions.