THE BIGGEST APP OF THE 21st CENTURY!

Dear Entrepreneur, V3Cube takes pride in Coding and Designing the world's biggest Super App - KingX Pro. And our Super App just got better!
Smart Entrepreneur, Our KINGX Pro App will help you make Easy and Quick Money in no time! And you'll go on to become the Next Self-Made Billionaire! How? Because you'll be Earning Commissions on Every Single Service Booked or Order Placed through this Money-Making Super-App.
What if we say you can Launch an App and conquer Businesses like Taxi, Transportation, Logistics, Food, and Grocery Deliveries, Health Care/Medical Services, Online shopping with Immediate Delivery, Ride Share/Car Pool, Money Transfer, Car Wash, Fitness, Beauty, Buying/Selling/Renting Cars - Real Estate - Other Items, and other 101+ Businesses with this Single App? Aspiring Entrepreneurs, kickstart your Multi-Service Business with the bigger and better Gojek Clone!
V3Cube's KINGX Pro has all the major Advanced Features that will allow your Customers to have Instant Online Video Consultations with Doctors, Tutors, Fitness Experts, Lawyers, etc via App. Also, a Newly-Introduced Trending Feature of this App is where your Customers can Post Task Details for the Services they need and get Real-Time Bids from Handymen! Newly Coded Features also include Finding Businesses Nearby your Location and Keeping Track of your Family Members and Employees.
Smart Entrepreneur, you are just one step away from becoming a Successful and Rich Businessman. Order Now and get Apps Delivered on your Stores and Server with your Branding, Name, Logo, Color, Preferred Language, Currency, Payment Gateway, etc. in just 1-2 Weeks. Let the money shower!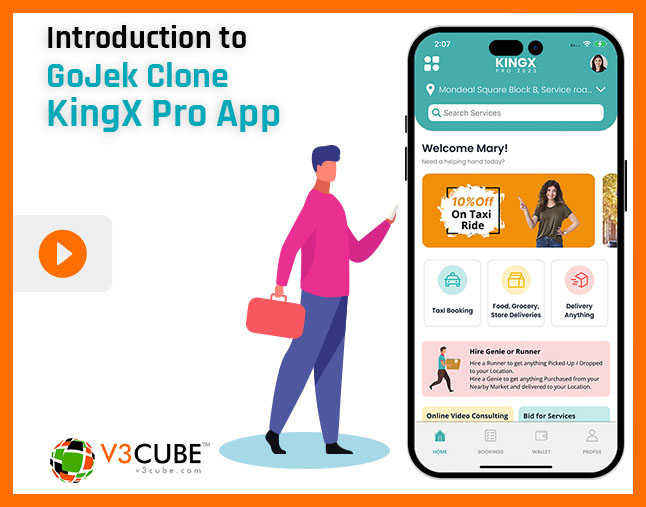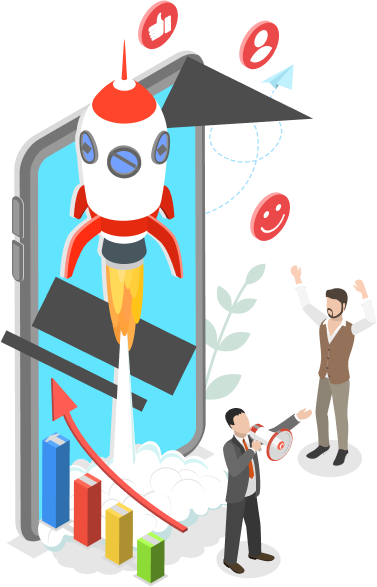 Over 1320
Mobile apps launched since Jan 2016
Our dedication towards bringing better and smarter solutions for our clients is the sole reason for our success. We aim at mobilizing the use of latest in the world of technical infrastructure to produce surreal apps that can be the stepping stone for the success of our clients.
With Dedicated Practice through years, we've mastered and have expertise in Designing and Development of Websites, Mobile Apps for Android & iPhone/iOS Phones and Wearable Devices Apps. We've achieved excellence in crafting Clone Scripts for renowned Apps and Websites, including Taxi Services, On-Demand Solutions, Ride-Sharing, and more. Our clients can access these high-quality offerings at exceptionally affordable rates.
Because We Have Been Launching Mature, Market-Tested and Fully-Optimized Apps on a Regular Daily Basis for Past Six Years Now, We Know this On-Demand Industry like No Other. We Know Which All Services are Highest in Demand and How can We Help Well-Educated Entrepreneurs like you to Go Live with your Completely White-Labeled App to Start Earning in Billions of US Dollars!
GET ENTHRALLED
WITH THE V3CUBE APPS!
If you have an awe inspiring idea for a business and want to watch it materialize, we are the solution. Our team of highly skilled expert professionals nurtures the seed of your ideas and helps it grow into a profit bearing tree.
Our interactive Mobile applications will make you forget average dreary and mundane apps by morphing them into ground breaking profit generating modern apps. Our application and website clones of some the most prominent sites are the perfect solutions to bring that buzz into your business. Ready to go live in just two days, they are the perfect solution to kill the monotony and bring fresh rewards back into your business.
In today's highly competitive business world, it is a matter of survival of the fittest and the most inventive. In the digital world, your inventions should be exclusive in order to be able to withstand the competition and that is why we at V3CUBE work tirelessly to provide exclusive, unique and powerful solutions. We design and provide products that will stand the test of time in today's highly competitive world, and ensure that your product will weather any storm and make you a force to be reckoned with.
Find buying online a challenge? Don't worry at all! Our sales support team is the best in the market who guide you through the entire process and provide you the app of your dreams. For all your Mobile Application, Custom Web Development and Wearable Devices Development or any similar requirement, call the experts at V3CUBE.
2005

FOUNDED

52 +

EMPLOYEES

2 APPS LAUNCHED
EVERYDAY

1320 APP
LAUNCHED

99 % REPEATED
CLIENTS

100 % CUSTOMER
SATISFACTION
V3CUBE
YOUR CLONE APP DEVELOPMENT COMPANY FOR LIFE
We, the proud V3Cubians, work with the simple Aim to Deliver Perfection and the Best to Our Clients.
Watch these videos to hear our Client's Past Experience of working with Other Companies in their 10-15 Year Long Tenure and how those Companies took Hefty Money but were not able to Deliver the Quality Product that they Promised.
And how these Clients had to then hire Freelancers to Fix the Flaws in those Apps.
Then you'll hear them share their Experience of working with V3Cube. Listen to them as they Discuss how they got Timely Delivery of the Apps that were Promised to them. How they have Stayed Connected to V3Cube for Years even after the Successful Launch of the App. They were Impressed with our After-Sales Service because we helped them keep their Apps Well-Maintained and Updated. Towards the End, they share their Future Plans of working with V3Cube Again. That they have Already Started Discussing their Second or Third Projects with us.
Concluding the Video, they are seen to be thanking the Technical Project Manager for their Support throughout the Entire Process and giving V3Cube the title "Developers for Life". They End on a Sweet Note by Encouraging other Entrepreneurs to come work with us.
WHY SKYPE CALL WHEN WE CAN COME TO YOUR COUNTRY?
V3CUBE ATTENDS LAUNCH AND IMPORTANT MEETINGS AT YOUR OFFICE IN YOUR COUNTRY. AND SHARES EXPERIENCES RELATED TO PLANNING AND IDEAS TO RUN THE BUSINESS
My Dearest Entrepreneur, we know this ON-DEMAND SERVICE INDUSTRY Inside Out! We have been Launching such Apps for Many Years Now and have Almost Two Decades of Experience in the Software Industry.
So when you Launch any of OUR APPS in your City, and Invite Us Over, We would be Grateful to Have you as our Host! Also, we'll be Happy to Share our In-Depth Knowledge with you! Give us the Honor to Help you with Business Planning, Marketing and Discussing Ideas related to Technical Maintenance of the System.
See how few of our Clients invited us over to Join in for the Lavish Pre-Launch Party of their Gojek Clone App. The Client was in urgency and understanding the emergency, we launched a Fully-Functional Powerful Gojek Like App for his Company in a Record 10 Days! They just couldn't Stop Complimenting Us for our Remarkable Work Ethic! And that is why they had sent in a Special Invitation and sponsored the trip for the V3Cube Team to Come and See What Big a Success this Super App had already become in their Country. We are Grateful to them for this Experience!
So, If you too want to discuss Your Unique Ideas and Big Plans with any of our Products, Contact Us Right Away! When you'll be busy making Arrangements for our Trip, we'll Busy Strategizing a Business Plan that will Help you Capture the Whole of Market with our Mature and Market-Tested Apps.
Contact Us Now
Products
wide Range Of Products
We've done it all! Our portfolio has a diverse assortment of apps that our team has built. Need a service? We've got the app! We have been in the app building business for a very long time and are specialists in design and development of Websites, Mobile Apps for Android & iPhone / iOS Phones and Wearable Devices Apps. V3cube bestselling cloned script apps are:
QUICK DELIVERY OF ON-DEMAND
APPS IS IN OUR VEINS
7 days is all we need to launch your App. And from the moment you go live, you start raking in profits because that's how the business model of our On-Demand Service Apps have been designed. With the purchase of the Package, we'll also rebrand our base App with your Company's Name and Logo. We'll integrate your preferred Language and Currency for the ease of your customers no matter where you hail from.
become the next big thing
BUY OUR PRODUCTS
WITH TOP NOTCH SUPPORT
LIFETIME EXTENDED LICENSE FOR 1 BRAND / DOMAIN
You just pay us once and get licenses for the code for lifetime for your Brand / Domain.
SUPPORT ALL ROUND THE YEAR
Your Technical manager will be available all round the clock for after Sales Support.
Local Currency and Language Options
Your Preferred Currency and Language Options will be added to the system.
Free system installation on your servers & app stores
We ensure that we'll get your Application approved on Play Store & App Store and won't get it rejected for any technical issue.
STRICTLY FOLLOWING NDA & PRIVACY POLICY
We will never put your Apps on our portfolio nor put our name on the Apps, we'll deliver you. Confidentially will be strictly maintained.
FREE UPGRADES
Free annual upgrades included as per the package that you purchase.
When Clients Visit Us!
It's nothing but encouragement and appreciation
V3cube's Angolan Partners Have Won The 1st Prize
In Digital Startup Competition
The South-African Nation of Angola is where we found our client a while back. These self-motivated and hard-working Angolan Entrepreneurs were ideating and trying to finalise what service to offer and build their business on.
This is where V3Cube makes a classic entrance and woo them with their Apps to the extent that they are swept off of their feet. They bought a fully-functional and market-tested app from us and started running their business in their hometown in Angola. They allowed their App Users to pay in their official currency Kwanza and browse content in Portuguese. Their App became a household name in a matter of weeks' time and they were doing well from the App Launch date itself. This is when they participated in their country's biggest start-up competition and they undisputedly won the first prize.
We had rebranded our base app with their company's name and logo and even changed their entire app's colour theme to match with the colour of the company's logo. We are so proud of our Angolan Clients for their success and achievements and feel grateful that we could be a part of it. This again is a living proof that we are the industry stalwarts and are the pioneers of futuristic clone app development business.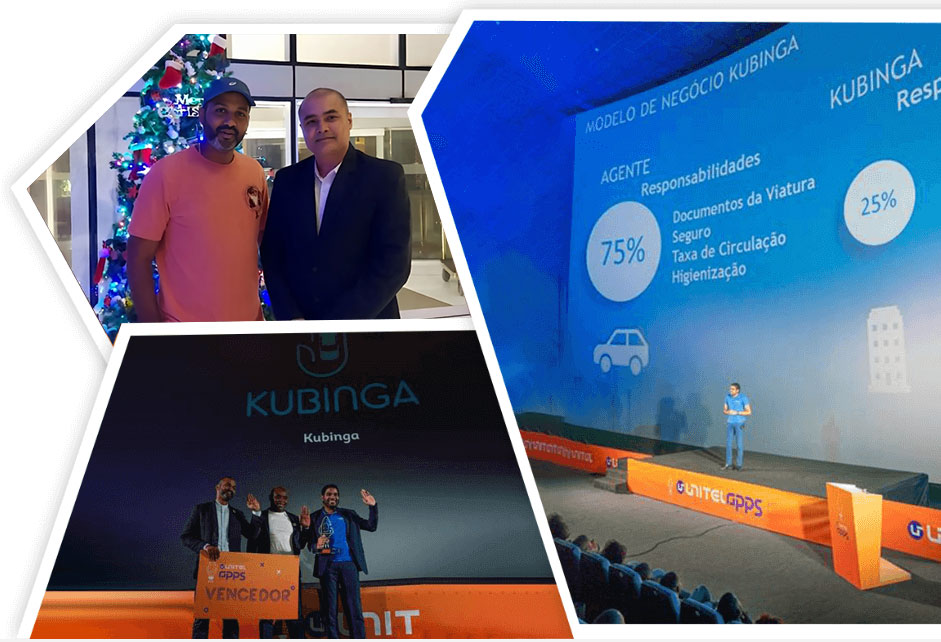 A REAL COMPANY
WITH REAL CLIENTS
Client Photographs Prove Testimony to Genuineness of Our Work Every time we deliver our clients with their desired solution, they leave behind with a smile on their face that gets captured by us in the form of a photograph to prove testimony to the genuineness of the services that we render to them.
CREATING HAPPY MEMORIES
WITH CLIENTS
Our offshore company works with clients around the globe, so we take every opportunity to create fond memories that will last a lifetime. Our recent adventures with our Yemen Guest are captured in these scintillating pictures. Mr. Farag A. visited us for his Gojek clone development requirements from Yemen.
What better occasion to invite him here for our upcoming V3Cube Foundation Day Celebrations at the Narayani Heights Resort. Mr. Farag A. enjoyed his brief stay with us and was impressed by our warmth and hospitality. The two-day trip seemed like a breeze as he participated in various games and explored diverse Indian cuisines at the Resort. We happen to capture some of the funniest, full of joy and happiness moments. Furthermore, the trip fostered the team members in forging strong bonds and become more engaged with one another. Working diligently under the guiding principle of "provide nothing but perfection," placing our clients' requirements first, we have made sure to consistently bring a smile with the excellent app products that we create.
We would not be where we are today without expressing our gratitude to the clients who had faith in us and the team who stood by us as we grew. We would be happy to bring a bright smile gleaming on your faces if you have any wishes and wish to have a good time when you visit us.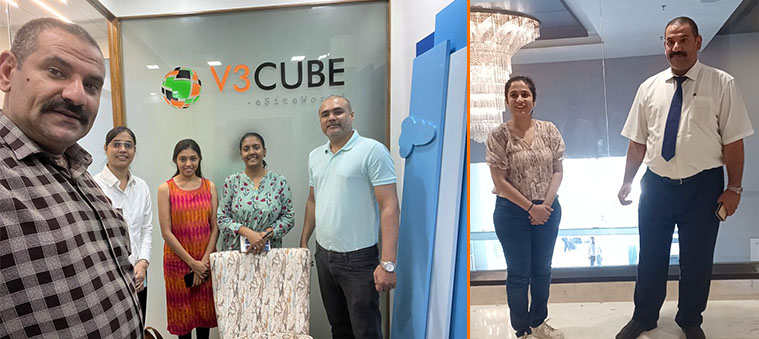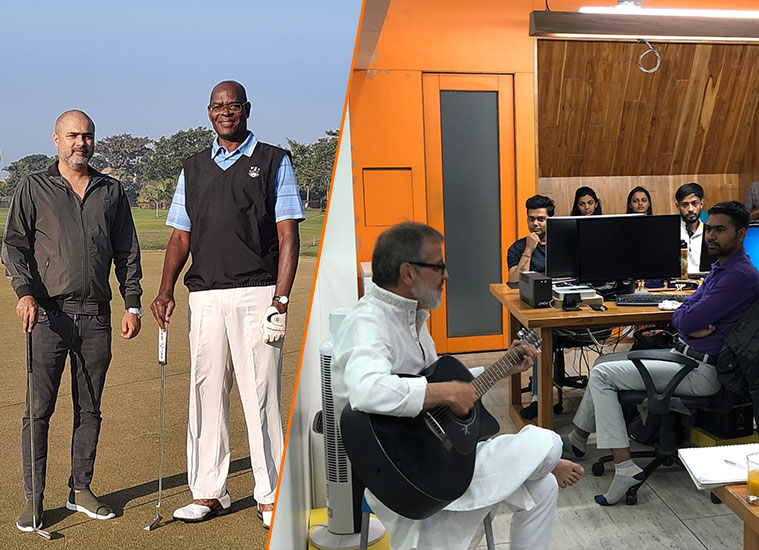 We, at V3Cube work as a family. While our focus is strongly driven towards delivering excellent solutions to our clients, we also understand that all work and no play makes jack a dull boy. Since we are an offshore company working with clients from all over the world, we take every opportunity of meeting with clients to create fond memories that can help us cherish them forever. Take a look at some of the scintillating pictures from our recent adventures with our clients. Here we have our client from Nairobi, Kenya who visited us for his Gojek clone development requirements. Over a cup of tea and a general discussion we found out that his
MOST LOVED SPORT WAS GOLF.
Our manager turned every stone to make his trip to India a memorable one by taking him to the COUNTRY'S LARGEST GOLF COURSE to play a game or two followed by a generous supper. His smile at the end of the day was a great prize for us. So, if you are planning to visit us in Ahmedabad to discuss your projects, rest assured we will do everything to see a BRIGHT SMILE ON YOUR FACE.
Outings and adventures are just one part of our work culture. Take a look at Archivaldo, our client from Chile who visited us for his own App development requirements. He is a patron of GOOD MUSIC and happened to tell us about his fondness of guitars. We arranged for a quick little concert in office for him where he got the stage to himself. He played some wonderful soulful songs by his FAVORITE ARTISTS, CAT STEVENS AND BEATLES FOR US. The whole office was murmuring with fervour and was totally refuelled with energy to work significantly more earnestly for every one of the clients. Many thanks ARCHIVALDO! WE LOVED YOUR SINGING AND CAN'T WAIT TO HAVE YOU BACK.
OUR CORE ETHICAL VALUES
We Deeply Believe In And Delivering Only High-Quality Products To Our Clients!
We are the Most Credible and Trustworthy White-Labeling Firm in the On-Demand Service Delivery Industry. Honestly, it is an Outstanding Achievement. And it is All because of the Following Set of Moral Values that We Hold Onto Dearly!
INTEGRITY
We run our company with the utmost integrity as we know that reliability, honesty and diligence are the reasons why clients prefer to work with us. We always strive for success and that is why we are the best in our field.
EXCELLENCE
We are passionate about our work and work hard to make sure that our perseverance pays off. Our products have that unique mark of excellence that stands out amongst other similar products.
RESPECT
We listen to what you have to say and act according to your requirements. We respect and value all our clients and that respect is always reflected in the way we deal with you.
CONFIDENTIALITY AND SECURITY
Your confidentiality will never be compromised when you work with us. We have a default Non Disclosure Agreement with all our clients and ensure that their confidentiality is never compromised. All our employees adhere to the strict company confidentiality and security codes.
EXPERIENCE
Having been in the business since 2005, our team has a wealth of experience amongst them, which is reflected openly in our products. Our expertise in this field is match by none.
DELIVER
We aim to launch our product in approximately 3-4 days and we do exactly that. As soon as we receive setup information, we start the White Labelling Process. Every deadline committed to our clients is adhered to at all times.
COMPASSION AND KINDNESS ARE
OUR GUIDING LIGHTS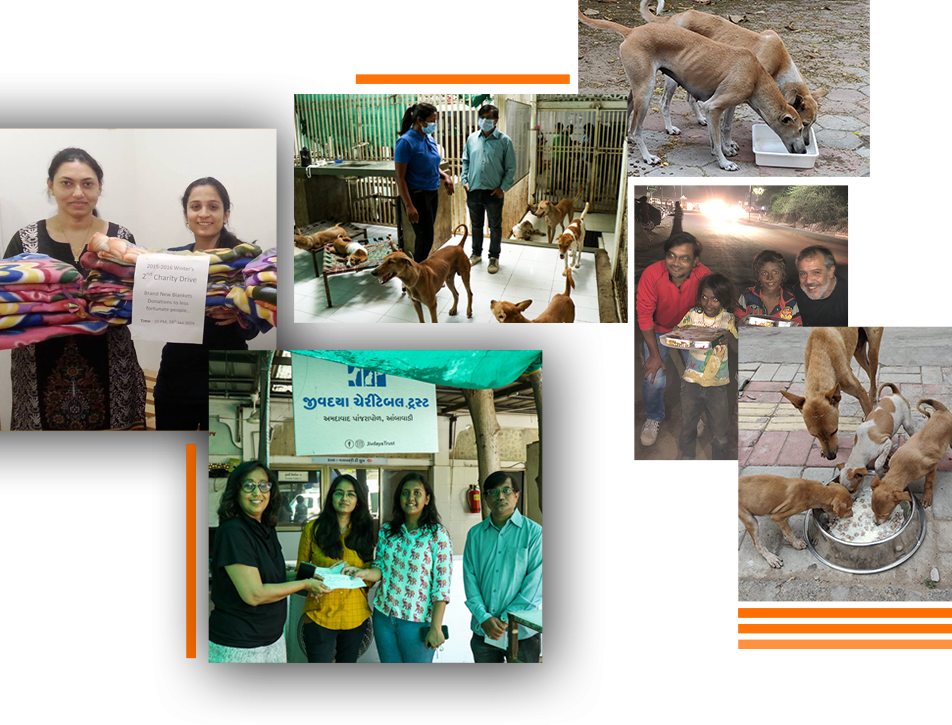 What would this world be if there was no compassion in it? With the news being chockfull of dreary dystopian items, the only ray of positivity is the ones that we can bring into our lives and that of others.
To ensure that every member of the V3Cube family is secure, the management has insured them for a sum total of up to INR 5, 00, 000/- We value our team and would do everything in our power to make sure that they are safe, protected and secure.
Team V3Cube also got in touch with an NGO working tirelessly for the upliftment of animals. Apart from providing food in the form of nutritious dry kibble, funds and medication to the Jivdaya Charitable Trust that champions the cause of rehabilitation, care and medical help for un owned animals, we also provided them with two X Ray machines to be able to give medical attention to animals when needed.
But, it is not just the animals that are suffering. While we have been fortunate enough to get the opportunity to work and earn, there are many homeless people in need of many things. As a part of our Corporate Social Responsibility, our management makes it a regular affair to donate blankets, packaged hygienic food, clean water and other essentials to the homeless on a regular basis.
We embrace our responsibilities and hope to bring about joy as much as we can. What we are able to do might be a little, but our intentions are absolutely pure. If you know of someone who needs help in our city or state, whether it is an animal welfare organisation or an individual in dire need, please do not hesitate to contact us. We will try our best to offer our assistance.
Make Your First $billion
And Become The Most-Successful Entrepreneur Of This Era!
Our clients are already making more than 300,000 USD! This is the perfect time to launch the perfect App for your on-demand business - Multi Purpose Gojek Clone App, Taxi, Deliver All, Food Delivery, Grocery Delivery, Pharmacy Delivery, All in one Medical App, Car wash, Uber For X and much more! If you don't spot a solution for your business, V3Cube can build it exclusively for you.
ALRIGHT! LET'S DO IT NOW !
OUR PROCESS
Do you want to know how you can buy v3cube's authentic script? Or simply curious about our purchase process?
At V3Cube we have dedicated ourselves to work relentlessly towards Design and Development of Apps for Web, Mobile and Wearable Technologies. Each member of the V3Cube has a dream of giving their own contribution to the field of technology. This is probably the biggest reason, so as to why we have established a reputation of being the most reliable company offering IT solutions.