Premier Uber for Workers App Script
Our On-demand Worker App follows the Uber Model, allowing users to instantly Find and Book Professionals near them. With V3Cube's Clone App Script, you, the Entrepreneur, can start an Online App-based Business with Minimal Effort and Investment.
Curious about what our Comprehensive Solution includes? See below:

How Uber for Tradesman App Work?
User registration/login: Login with Face ID or Fingerprint. Users can Sign up using Social Media Accounts or by entering their basic details like name, mobile number, and email address.
Service selection: Select the required Service from the Menu, such as Plumber, BabySitter, Car Washer, etc.
List of Workers: A list of workers from the chosen Service Category is displayed on the Screen. Users can sort them based on their Proximity, Ratings, Price, and other options.
View Profiles: Users can choose the Worker of their choice and explore their Services, Gallery, Ratings, Prices, etc.
Service Booking: Users need to select their Preferred Payment Mode (Cash or Card) and the Location for the Service. They can choose to Book the Service Instantly or Schedule it.
Booking Confirmation: As soon as the Worker Accepts the Request, the User receives a Confirmation Notification.
Live Tracking: Users can Track the Worker's Location in real time.
Service Starts: The Worker arrives at the User's Location, verifies the OTP, and starts the Job.
Job Completion: The Worker marks the job as 'Completed' and the system generates the Invoice Summary.
Review and Rating: After payment is done, both the User and the Worker can Rate and Review based on their Experience.
Best Free Features of Our Work on-Demand Apps
Uber for Worker App - Newly Integrated Features
Our Experts have made the On-demand App even more Powerful and Efficient than ever before! Take a quick tour of the curated list of our Newly Added Features.
Uber for Workers - Live App Demo
Click to watch the Live Demo of our Ready-made, User-friendly On-demand Staffing App. Get a sneak peek into our app's stellar interface, Features, and Workflow.
Benefits of Local Tradesman App
Launch a Smart Worker Hiring Solution in your region in 1-2 weeks. Develop an On-demand Worker App like Uber and change how people hire staff and find gigs! Packed with Multiple Benefits, this app allows users to connect with a vast network of qualified professionals.
With only a few taps on the smartphone, users can quickly Find Workers/Tradesmen and book their services. Additionally, with the On-demand Application, users can Book Workers on demand, considering their Budget.
Furthermore, our On-demand Staffing App integrates features like Online Payments, Feedback, Service Bidding, Online Consultations, etc.
Develop on-Demand Staffing App on Budget
Start an Uber-like Business without spending a fortune! Discover what's included in our Shark Package.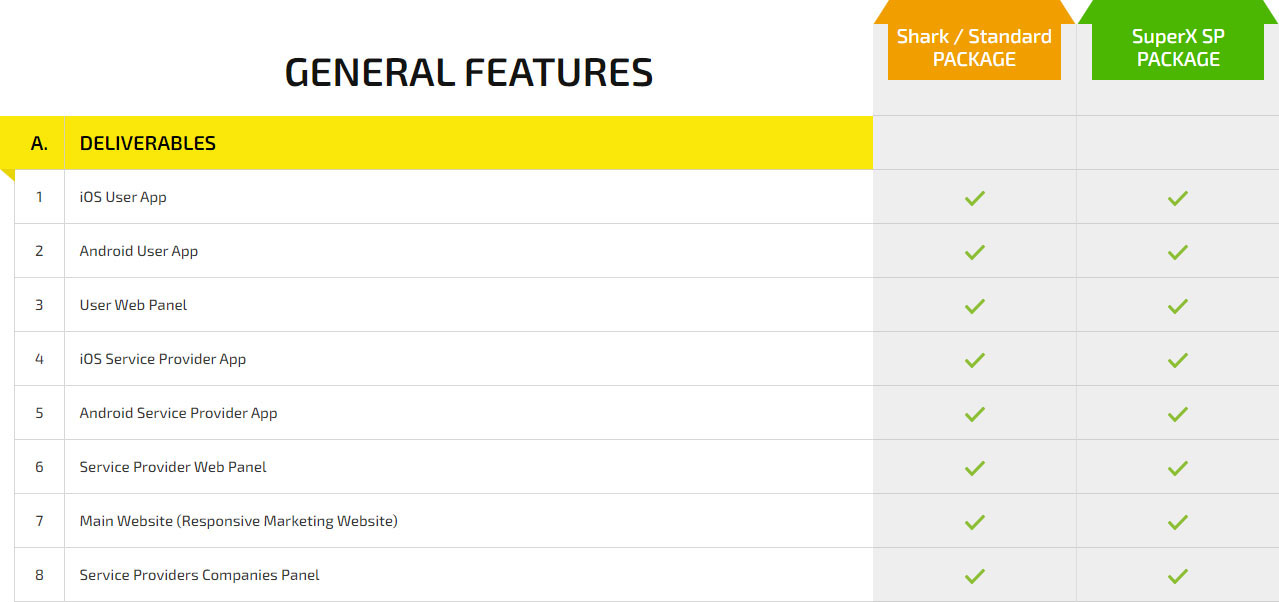 View Features & Pricing
Powerful Website and Admin Panel
We provide more than just an On-demand Uber for Workers App. At V3Cube, we offer a complete Package. Our solution includes a Fully Responsive Website that allows users to Manage their Accounts, View Transactions, and access previous Bookings.
Our platform is Comprehensive and Robust, designed to streamline your Business Operations. With our Admin Dashboard, you gain Full Control of your business, empowering you to Maximize your Profits. Plus, our Real-time Reports and Analysis Tools provide valuable Insights to Boost Productivity.
Website Flow
Frequently Asked Questions
What is an Uber for Worker or On-demand tradesman app?

It is a platform that connects users with workers or service providers on-demand, that is, wherever they want. The app is similar to how Uber works, allowing users to find and hire professionals for various services without manually calling businesses near them.

How do entrepreneurs make money with the worker on-demand app?

On-demand apps are positively helping entrepreneurs grow their businesses and make money. Therefore, after launching the app, you will be able to earn commissions from users and workers on each service booked via the app. Moreover, you will be able to earn via In-app Ads as well. For more details, connect with our Sales Team.

Who owns the app after it's launched?

After we launch the Fitness On Demand App and complete all the required paperwork, we will provide you with the licensed source code based on your purchased package. In short, you'll have complete ownership of the App.

What key features are integrated into the Uber for Worker app?

After downloading the app, your users will be able to log in with Face ID/Fingerprint, register with social accounts, and get real-time updates on the booked service. Also, they'll be able to pay online, track workers in real-time, manage their in-app wallet, rate and review, and much more.

How much time will it take to develop the On-demand Staffing App?

Our experts need only 1-2 weeks to develop your app and submit it to the App Stores and Servers. Since our solutions are ready-made, it takes us only a couple of weeks or less to white-label the app as per your requirements.

How much will it cost to build the Uber for Worker app?

We offer a pre-built solution; thus, it's much more affordable than building the app from scratch. For a detailed quote, connect with our Sales Team.
Excellence in Action: Testimonials from Our Clients
We don't want you to just take our word for it. Listen to our Clients from around the World as they share their experiences working with us and launching their High-yielding On-demand businesses. Find out why these Entrepreneurs recommend our Services to their peers.
Our Suite of Exemplary on-Demand Apps
Start your Business in 1-2 Weeks with our assorted Ready-made On-demand Apps. Browse our Product Catalog for more details.
Contact Us Now