What We Offer in on Demand Handyman App - Superx Sp
Our Pre-built Solutions are Perfect for all your Handyman Business Needs! Our Package includes every Essential Script you need to run your Online Business Smoothly on the Android and iOS App Stores and the Web!
Launch your On-demand App and let your Customers Hire Local Handymen who will provide them with Quick and Professional Services in no time.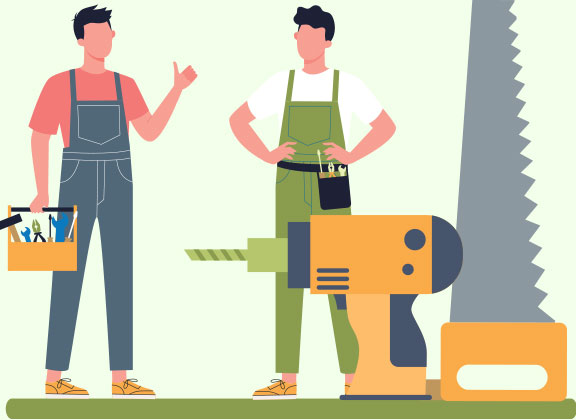 Uber for Handyman - Workflow
Discover how our On-demand Handyman App works in this Step-wise Workflow. Users can easily Access Services at their Preferred Location, while Service Providers can seamlessly Accept Requests and Earn Money after every Service they Complete.
Sign-up: After installing the App, users have to register with the App. They can use their mobile number and email to sign-up for the application.
Login: If the user has already registered on the App, they can log in using Facebook, Gmail, Face ID (iOS), and Fingerprint (Android).
Browse and select service: Users can now select the service, like Handyman, they want from displayed categories - On-Demand Service Provider, Video Consultation, or Service Bidding.

If the user chooses an On-demand Service Provider: If the user wants to hire a service provider like a car washer, beautician, tow truck, babysitter, maid, etc., they can tap on the desired service. Now, they can choose the provider they like the most based on their ratings, reviews, and charges. Users can add one or more services that the providers offer and proceed to checkout.
If the user chooses Online Video Consultation: If the user wants to video consult with a professional, they can tap into the desired service to find available providers near them. They can then proceed to add special instructions for the providers and head to the checkout page.
If the user chooses Service Bidding: If a user wants to hire a plumber, electrician, plumber, etc., they can post the task, mentioning the price they're willing to pay for the task. All the Handymen in the selected category are notified about the task. Now, interested Handymen can put up an offer, and users can negotiate with them until they finalize a deal. If users like the price and wish to hire a professional, they can tap on confirm to proceed toward the checkout.

Select payment mode: After selecting the services and the providers, users can now choose their preferred payment - Cash, Credit/Debit Cards, or In-App Wallet. Remember, when the user chooses an Online Video Consultation Service, they'll be able to pay only via Online Methods (Wallet or Debit/Credit Cards)
Service Booking: Users can now book the services by tapping on BOOK NOW/BOOK LATER as per their convenience.
Service Confirmation: The user receives a confirmation notification once the service provider accepts the request.
Tracking: Users can track the service provider's location in real-time (not available in Online Video Consultation).
Service Completion: The service provider arrives at the user's location and starts the task. After the task ends, the provider marks the service as 'Complete'.
Payment Processing:The payment is processed once the task is marked as "Complete" when the user has chosen the "Online" payment option. On the other hand, the user has to hand over the cash to the provider if they have chosen the "Cash" payment method.
Rating & Review: Users can rate and review the provider, and vice-versa.
Free Features of Our Handyman App
White-label

We will White-label the App with your Brand Name and Logo at no Extra Charge. Additionally, we will change the Color Theme of the App to match your Branding.

In-App Wallet

Users can easily pay for the Services Online via their In-App Wallet. They can use their Credit/Debit card to Top-up the Wallet.

1-Year Bug Support

We provide a One-year Free Support to assist you with any Technical Issues you might come across within our Source Code. We will fix them and help you Go Live quickly.

NDA & Privacy Policy

We are committed to following NDAs and Privacy Policies and will Never claim Ownership of your Apps or present them in our Portfolio.

App Rejection Support

If your App is Rejected by the App Store for any Technical Reason, we will Fix the Issue and get it Approved.

Licensed Source Code

You have the option to obtain the Licensed Source Code at No Cost, allowing your Technical team to make Improvements whenever they want.
Handyman App 2023 latest features
On-Demand Handyman App Working Demo
Watch the Demo App Video of the Handy Clone and see how the App Works in Real-time.
Go through how Customers and Handymen Connect via the App, Place the Bid, negotiate, and finally Finish the Job.
Digitize Your Business with V3cube's Handy Clone
Launching an On-demand Handyman Service App offers Entrepreneurs and Customers various benefits. It Capitalizes on convenience and instant services, ensuring a steady flow of customers and lower overhead costs. With a ready-made clone App, launching your business is quick and easy.
Moreover, a ready-made clone App makes it quick to white-label and launch the App, allowing you to enter the competitive market swiftly. Additionally, its customizable features help enhance the overall branding.
Customers enjoy easy booking, skilled handyman selection, and on-demand services. So, if you're thinking of starting a Handy Clone, the answer is a resounding YES! Start your online business using V3Cube's On-Demand Handyman App in 1-2 weeks and make profits effortlessly.
What's in Our Superx Sp Package?
Check out everything Big and Small you get with our SuperX SP Package. Look at what you Need to Start your Business and make Quick Profits.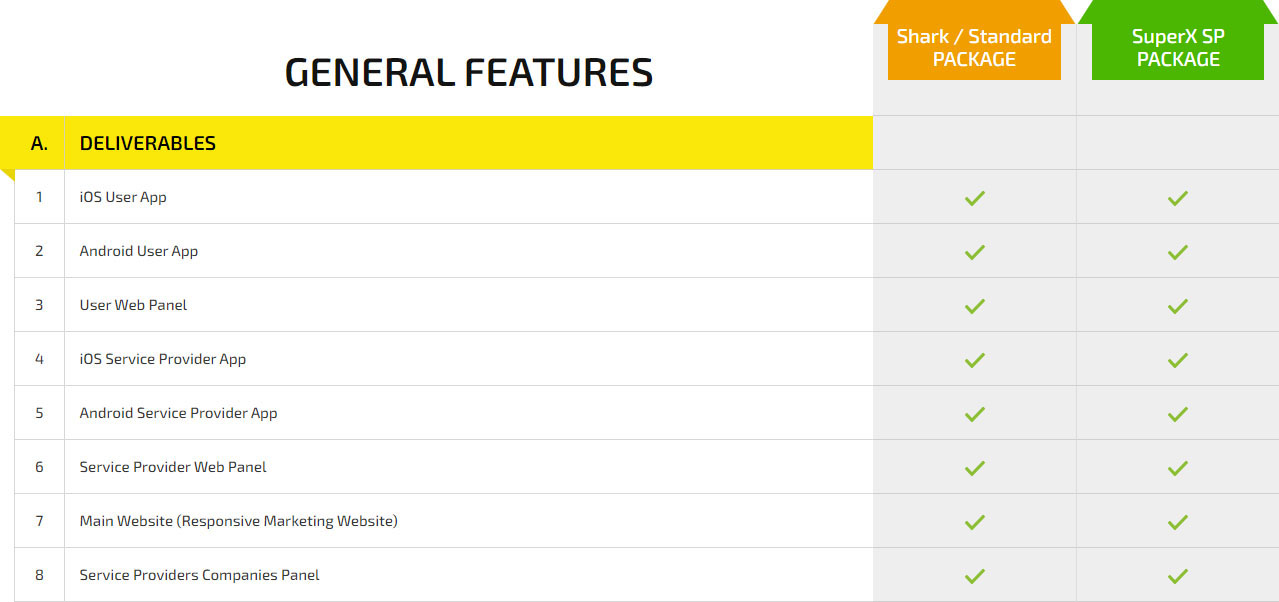 View Features & Pricing
Website and Admin Panel
Designed using Cutting-edge Technology, our Responsive Website aims to Elevate your On-demand Handyman Business. The Website allows users to Register, Edit their Profile, View their Past Orders, Wallet Transactions, and more.
The Admin Panel allows you to Manage Admin Groups and User Profiles, Manage Companies, and Generate useful Reports, providing better Insights into the Business.
Explore the Flow of the Website and Admin Panel
Frequently Asked Questions
Why should you build an On-demand Handyman App?

Besides earning Profits, launching Handy Clone can help you increase your Sales, reach a Wider Audience, Improve Customer Satisfaction, Streamline your Operations, and even Engage with Customers.

How long does it take to launch the On-demand Handyman App?

Our experts White-label the App in 1–2 Weeks and Submit it to the App Stores. Once the App stores (iOS and Android) Review and Approve the Apps, they're ready to GO LIVE.

Who gets the App's Ownership after launch?

Once we Launch the App and complete all the formalities, we will send you the Licensed Source Code as per your Purchase Package. Remember, we sign an NDA and will never claim your App as ours or showcase it under "Our Work"! We maintain complete Confidentiality.

Is the App Customizable even after Launch?

Once you have the Source Code, your Technical Team can access it and make the desired Modifications as per your Requirements.
V3cube Testimonials
We've always felt Pride when our Happy Clients shared their experiences working with us. Watch Entrepreneurs from around the world applaud our Amazing Services.
Other On Demand Products
We have more than 60 on demand Products that you can choose from. Choose your Product, contact us and launch your Apps in just 3-4 days.
Contact Us Now