Free Features Of Our Uber For Maids App
That Others Charge For
Uber for Maids Clone Script
We have built the On-demand Maid App to make it easy for you to start your Business without worrying about how to develop it. Our Clone Script Package includes everything you need, from Pre-built iOS and Android apps to a Website, Panels, and more. Check out the Comprehensive list of all the Ready-made Solutions you will get with the Purchase of our Package.
Main Website
Maid iOS App
Maid Android App
Maid Web Panel
User iOS App
User Android App
User Web Panel
Maid Company Web Panel
Admin Web Panel to manage all - Payments, Commissions, Users, Maids, etc.
On-Demand Maids App Graphical Flow
Take a look through the Graphical Flow of our Maid Finder App. See how our Advanced App works and how it helps users seamlessly Book Services whenever they want.
How on Demand Maid Service App Works?
Here's the Step-wise Workflow of the app. See how users can book Professional Maids On Demand with just a Few Taps on their app.
Login or Sign-Up: Your users can sign-up on the app using social accounts like Facebook or Google. To log in, they can use Face ID (iOS) or Fingerprint (Android).
Profile Setup: After creating the account, they can fill in their profile information. It includes details like name, address, contact, payment details (credit card/debit card), etc.
Service Category Selection: Users will choose the service category and a list of maids offering particular services that they need.
Maid Availability: The app uses location services to find all available maids in the vicinity who match the user's service selection.
Finding The Best Professional: Users can now check the maids' profiles, past ratings, and rates to make the decision.
Service Booking: After selecting the maid they want to book, users can choose to book the service now or schedule it at their preferred date and time.
Payment Method Selection: Before tapping on the booking button, users need to select their preferred payment method, that is, cash, credit/debit card, or in-app wallet.
Service Confirmation: The provider is notified as soon as the user sends them the service request. When the provider accepts the request, the user gets a confirmation notification.
Task Execution: On the appointed date and time, the maid arrives at the user's location. They start the task after verifying the OTP.
Task Completion: After completing the cleaning task, the maid marks the service as finished in the app.
Invoice Generation: The app calculates the total price for the service and displays the invoice. It contains the entire breakdown of the charges and the service details.
Payment Processing: The user pays for the service based on their chosen method.
Rating and Review: Once the payment is done, users can rate and review the maid and the overall service they receive.
Core Features Of Our on Demand Maid Service App
Here are some Features that help your user Book a Maid Online. We have also listed the Core Features of the Provider's App, Website, and Admin Panel.
User App
Maid App
Website
Admin Panel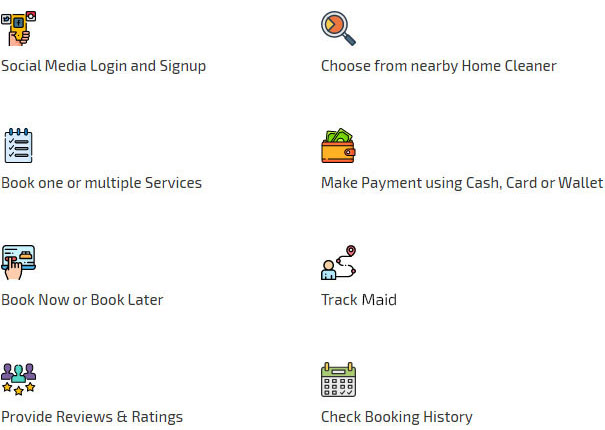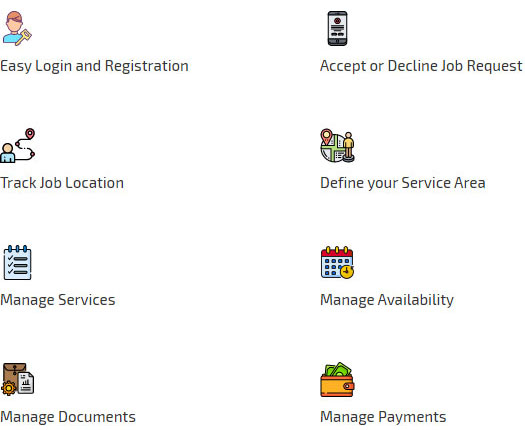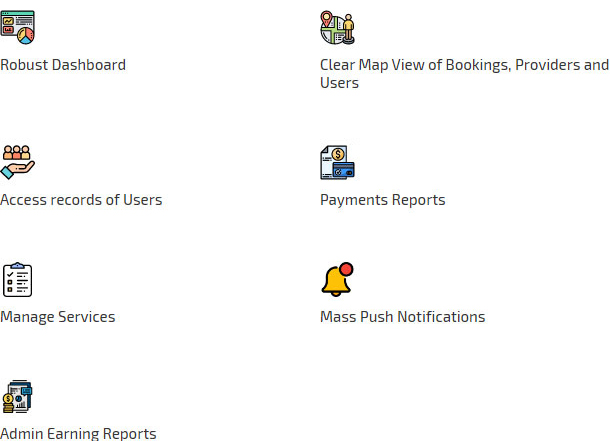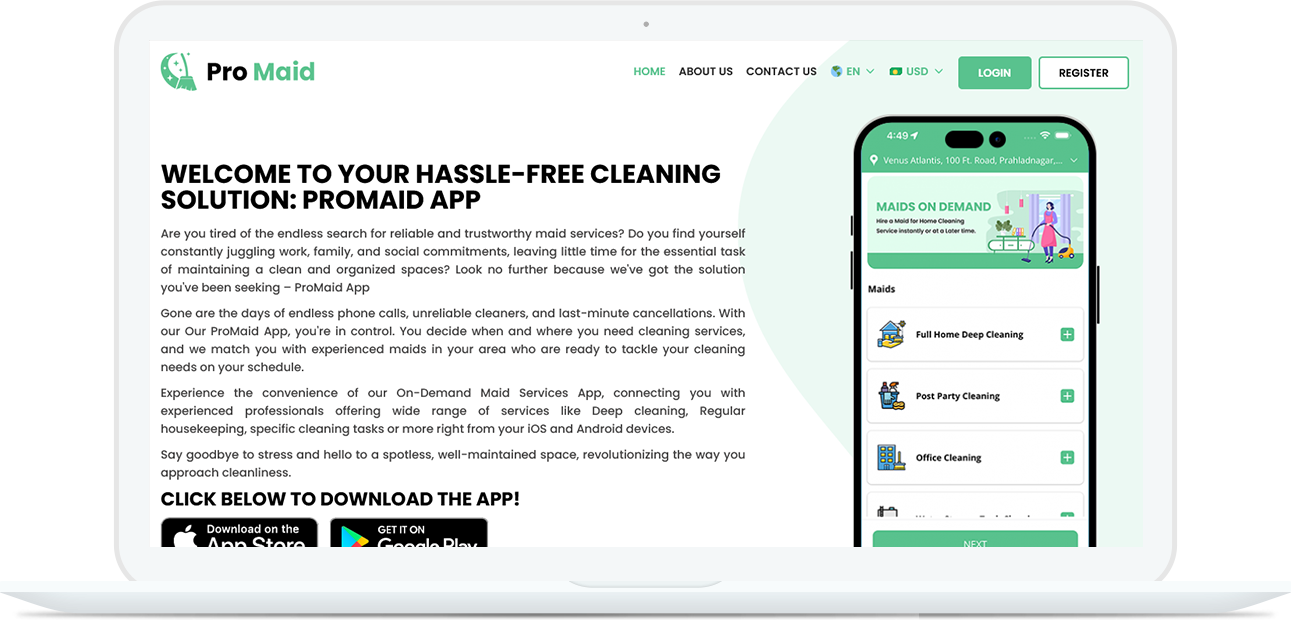 Front-End and Admin Panel
V3Cube offers you the best Uber for Maid app developed using the market's proven UI/UX Design principles. With a useful and appealing Frontend, we offer a Customizable, Responsive Website that functions just like Housecall or AllBetter. Users can easily View Services and Manage their Profiles on the Website. But that's not it! Our Comprehensive and Robust Platform allows you to Smoothly Manage your Business. The Admin Dashboard gives you Full Control and helps you Boost your ROI with ease. With just a tap, you can get Real-time Reports and Analysis to enhance your Business's Productivity.
What's the Cost of on-Demand Maids App Development?
Building a Maid booking app is expensive and time-consuming! But worry not! Our team of experts has done all the hard work for you. We've crafted a fully functional and market-ready app for you. All you need to do is tell us your requirements, and we will white-label it for you. With the purchase of our Package, you will get iOS and Android Apps, a Website, an admin panel, Supporting Panels, and more. The good news is that you have to Pay only for what you need in your Uber for Maid app and leave the rest to us. So, what are you waiting for? Check out our Affordable Packages now, along with our feature and pricing lists, for more details.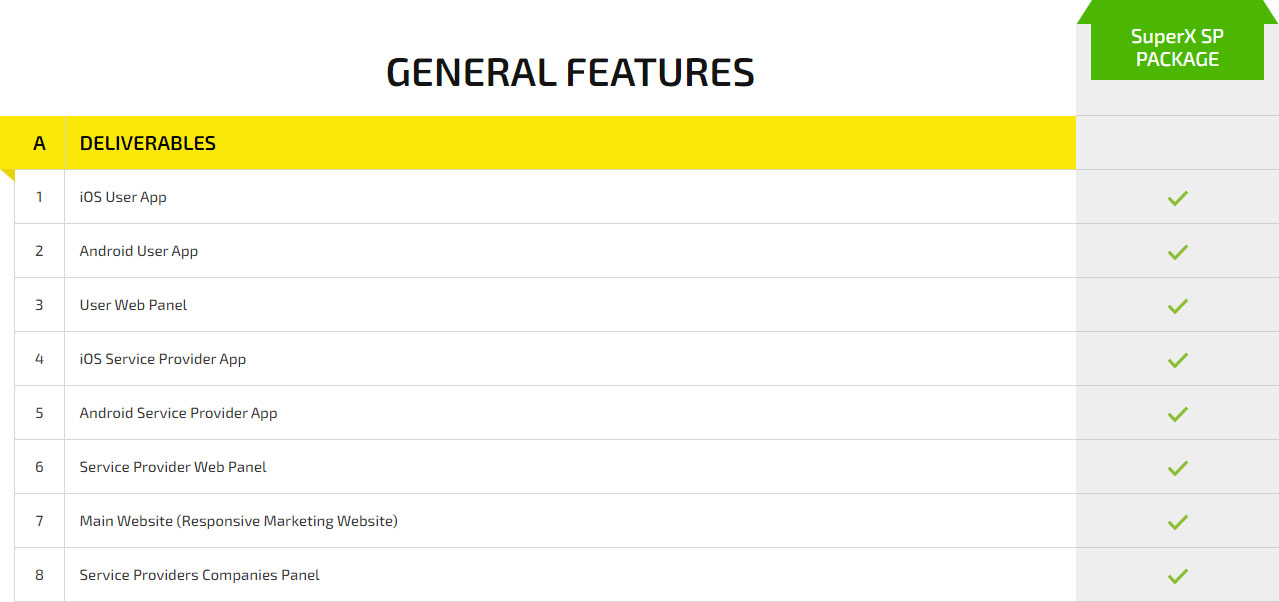 View Features & Pricing
Frequently Asked Questions
What is the Uber for Maids app?

The Uber for Maids app allows your users to Book Cleaning Services via their App. They can easily find available Maids Online, Schedule the Service, make Online Payments, etc., with just a Few Taps on the Screen.

Does your app offer Support for Multiple Languages and Currencies?

Yes, you can app up to 25 Languages and Currencies in the App according to your preference.

Is your Source Code Paid?

Well, we offer your Licensed Source Code at no Additional Charge when you purchase our Uber for Maid app Package.

How long does it take to Launch the App?

It takes us 1-2 Weeks to White-label the App and launch it on the App Stores. Once your App goes Live, your users will be able to Download it.
Client Testimonial
Watch our Clients share their Experience working with Us!
Contact Us Now
On demand maid service app
What is Uber for Maids?
Uber for Maids is a simple yet very useful app that allows users to hire professional maids and cleaners. Users can choose to book the services instantly or schedule them as per their date and time preferences.
Many people prefer to hire professionals for cleaning tasks because they're time-consuming and tiring. Moreover, people today, have a busy schedule, making it harder for them to clean their homes on their own.
On-demand maid finder apps have changed how things traditionally worked. Along with helping users find maids, this app has also helped professionals find gigs easily.
Advantages of On-demand Maid App
Listed below are a few perks of launching a Maid service on-demand app:
Convenience:
Your users can book professional cleaners and other Maid services by simply installing this app on their smartphones. It is convenient, as your users will no longer have to depend on a domestic staffing agency or search through references to find maids.
High-quality services:
Users can connect with trained and experienced professionals with just a few taps on the screen. They can choose the professional based on their experience, prices, proximity, etc.
Transparent pricing:
Maid Finder app allows users to look at the prices and get an accurate breakdown of the total cost that they have to pay.
Quick assistance:
Your users can book services quickly and get same-day assistance. It helps them get their homes clean and tidy in no time.
Time-saving:
The app saves time by providing users with an entire network of cleaners right at their fingertips.