Free Features of Our Getcho Clone
That Others Charge For
App Installation

We will Install the App and Web Services on the Servers and App Stores. You can quickly Go Live on the Google Play Store and Apple App Store without paying an additional penny.

Annual Updates

Get a Free Upgrade after a Year. Just tell us when you need the Update, and we will Zip and Send you the Code for the Package you purchased from us.

White-Labeling

We'll add your Company's Name and Logo to the Application and the Web Panels so you can launch it under your Branding. This White-labeling Service is included in Our Package at No Extra Charge.

NDA & Privacy Policy

We follow NDAs and Privacy Policies and take confidentiality seriously. Your Apps won't be shown in Our Portfolio, and we won't claim them as our own.

Licensed Source Code

You get the Source Code for Free. Using the Code, your Tech Team can Make Improvements to the App whenever they need to.

1-Year Bug Support

We provide One-year Free Support for any Technical Issues (Bugs) you may find in our Source Code.
Get the Source Code for the Uber Connect Clone!
We believe in empowering our clients with an app that helps grow their business. We also want to ensure that you don't have to worry about making any changes to the app as per market behavior and other factors as time goes. To this effect, we offer you the licensed source code of your Uber Connect clone Parcel Delivery App to absolutely free along with the purchase of the app.
With the source code in your hands, the app will belong to you in complete totality and you can make any kind of change or update to the app whenever you want to! We are always with you and all our solutions are aimed at helping your succeed and we would leave no stone unturned to see that through.
However, it is not just the source code that we offer! Our app is an entire system that makes it possible for you to run your business smoothly. Take a look at what all you get when you purchase the app from us.
Company / Merchants / Individual User iOS App
Company / Merchants / Individual User Android App
Company / Merchants / Individual User Web Panel
Carrier / Driver iOS App
Carrier / Driver Android App
Carrier / Driver Web Panel
Main Website
Admin Web Panel to manage all - Payments, Company / Merchants / Individuals, Carriers / Drivers, etc. (Also includes Billing Administrator Panel)
If you are in search for uber connect app clone / uberrush app clone / delivery app clone / parcel delivery app clone / courier delivery app clone / on-demand courier delivery app clone then you are at the right place.
Expand On-Demand Delivery Services with Our Top-Notch App
We have an excellent, economical solution for you.
We provide a one-stop software solution for entrepreneurs aiming to leave a prominent mark on the online delivery app market. Inspired by the big players our On-demand Clone App Script has been crafted and developed to provide an all-around solution to online grocery shopping & deliveries.
Your users do not have to download ten different app. We do provide an app that comes integrated multiple services with it. Register just once, your users can place multiple orders and manage everything from one single app.
Get your hands on our Seamless, Ready-Made GETCHO Clone App to launch your All-in-One Delivery Business.
Explore Live Demo of Our On-Demand Delivery App
Watch the Demo of our On-demand Delivery App and see why you need to Test it on your Own Device. Don't just fall for the Words; watch the Real-time Working Demo here and learn more about App Features, Functions, and Interfaces.
Senpex Courier Clone Workflow
Login/SignUp: Users have the option to log in using their Face ID (iPhone), Fingerprint (Android), or valid credentials. Alternatively, users can sign up by creating an account on the app. They can use phone numbers, social media accounts, or an email address to register.
Select the Delivery Service: Users can select their preferred delivery service like parcels, food, groceries, etc. Once they choose the service, the system displays the estimated cost and time of delivery.
Place the Delivery Order: The user now needs to select the payment method and delivery address. To place the order, the user has to tap Book Now.
Driver Accepts the Order: All the nearby delivery drivers get notified about the request. The first driver who accepts the job will reach the address to pick up the order.
Live Tracking: Users can track the driver's location on the map in real time.
Service Completion: The user will be immediately notified when the driver delivers the parcel to the said address.
Invoice and Payment: The system will generate and display the invoice as soon as the driver marks the service as 'complete.' The user can then make the payment if they've chosen cash, or the money will be deducted from their account if they've selected payment via Credit/Debit Card. Similarly, if the payment method chosen is an 'in-app wallet,' the money will be deducted from their wallet.
Rate and Review: After the delivery, the user and the driver can rate & review each other.
An in-Depth Look into the Delivery App Screens
To help understand the Look and Feel of the App, here's a Screen-wise display of the GETCHO Clone app. Look at our Highly Advanced On-demand Delivery App's Interface.
User App
Delivery Driver App
View Step by Step Graphical Flow
Launch on-Demand Delivery App with Pro Package
Go live with your On-demand Delivery Business in 1-2 weeks with our Pro Package! The App comes with Amazing Features that guarantee easy Money-making.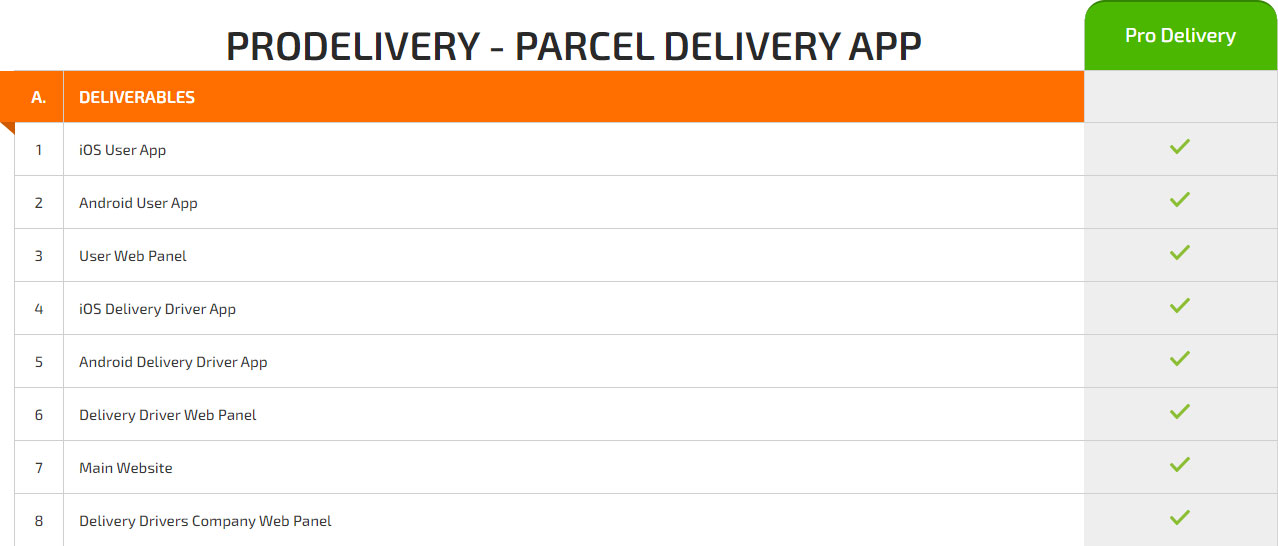 View Features & Pricing
Buy Now
Web Panel, Websites, Admin Panel, and More!
Launching an Online Business means you need a Fully-fledged App and Web Panels. With V3Cube, you can easily launch a Website and Mobile App for Android and iOS in just 1-2 Weeks. Our Skilled Team of App Developers works around the clock to White-label the Ready-made Solutions to make them yours.
With our Feature-rich App, your users can Book and Track Delivery Services. The Website lets them manage their Profile, View Transactions, go through the Services and even learn In-depth about your Brand. Additionally, we provide a Robust Admin Panel using which you, as the App Owner, can easily manage the Business, Set Commissions, and much more.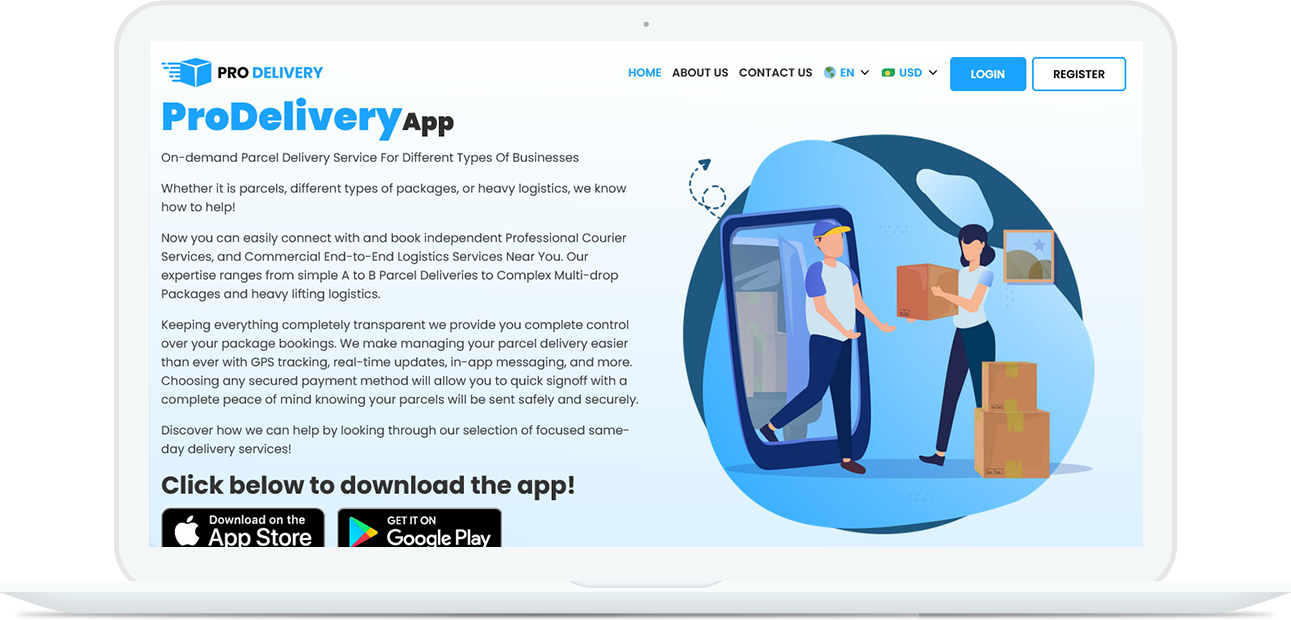 What Do Our Clients Say?
The one thing that can help in determining the quality of service of a company is what their clients say about them. Over the years we have had the pleasure of working with hundreds of clients. Here are some of the reviews that they have left for us. Hear it for yourself!
Contact Us Now