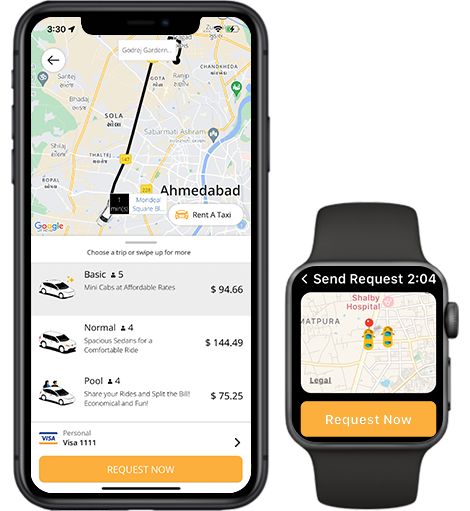 What is Uber Clone?
Uber Clone is a Taxi Booking solution that connects Riders and Drivers through an app. Utilize a white-label, customizable Uber App clone to operate all your ride-hailing services. Our apps are well-developed, tested, and feature-rich. Our robust admin panel makes it easy to manage the taxi business from a single dashboard.
To book a ride on the app, input pickup and drop-off locations, select car types, and choose your preferred payment. This taxi app is the city's best transportation choice and an easy income source for drivers. For business masterminds like you, this app is the fastest escalator to success and the key to earning hefty profits.
What do we offer in our Uber App Clone Package?
Google Play and the Apple App Store have approved our Uber-like app solution. It works on popular devices such as iPhones, iPads, Android phones, and Android tablets.
White label Uber clone script includes:
User Apps
Rider iOS App
Rider Android App
Rider Web Panel
Kiosk Android App (Optional)
Taxi Booking iWatch App (Optional)

Driver Apps
Driver iOS App
Driver Android App
Driver Web Panel

Website & Admin Panel
Main Website (Marketing Responsive & Booking of Taxi)
Taxi Fleet Company Management Web Panel
Manual Taxi Dispatcher Web Panel
Billing Administrator Web Panel
Administrator Web Panel

Supporting Panels
Organization Web Panel (For Corporate Rides)
Hotel/Tourist Office Booking Panel

How to create an app like Uber?
What makes us the #1 Uber clone app development company? Our interactive, well-designed, and coded scripts can take your taxi business online in just one week. Parallel to Uber, white-label taxi booking app will showcase a collection of functionalities that will deliver a world-class customer journey.
Our app has pre-integrated advanced features: geo-fencing, multiple payment methods, push notifications, real-time location tracking, emergency contacts, and auto-generated invoices.
Are our business solutions affordable? They are from developing to launching Clone of Uber in Malaysia, Philippines, Cambodia, Thailand, Vietnam, Brazil, Nigeria, Canada, UK, Kenya, UAE, US, Egypt, Indonesia, Ethiopia, Mexico, and other countries. Start a taxi company like Uber anywhere without burning a hole in your pocket.
Let's build an app like Uber today!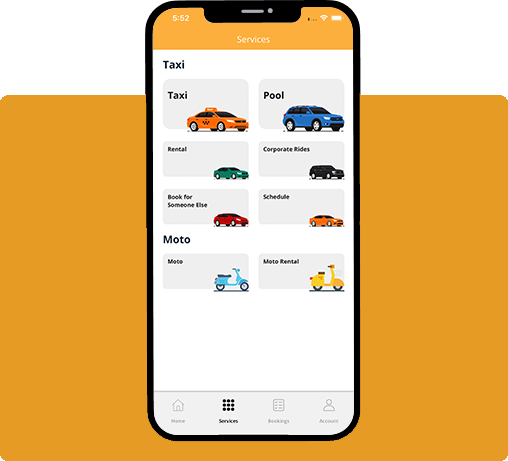 Say Hello to the New Taxi Bidding Feature
Looking for a Revolutionary Idea that can change your User's Taxi Booking Experience entirely? Introducing our groundbreaking Taxi Bidding App Feature that lets users ride Worry-free at a Fare they want. Inspired by the popular inDriverApp, adding this New and Advanced Feature can quickly Boost your Business.
Our ready-to-go app solution empowers entrepreneurs like you to choose between two distinct algorithms: the standard Uber-like flow or the inDriver-like bidding flow, catering to your specific business needs.
Does this mean you'd be earning only a handful? Not! With every Taxi Ride booked on the App, you will make Money! Experience the transformative power of Taxi Bidding, where riders and drivers collaborate to determine the optimal fare for each journey.
Let V3Cube White-label your On-demand Taxi Application in 1-2 Weeks and elevate your Personalized Brand. Enjoy a wealth of benefits, including unlimited demos, flexible payments, a fast launch, and full support.
Commitment Delivered - 100%
Watch this video to learn more about our company and how we have earned the trust of our customers. We are honest, transparent, and hard-working, thus keeping our promises.
Taxi Booking App Features
We leave no stone unturned to offer you something unique and mind-blowing. See what's new in our Uber clone software feature list!
Live Activity

Real-time tracking of taxi rides allows users to stay updated on their trips. This allows them to view their trip progress, vehicle information, and driver information. Experience seamless ride tracking without ever opening the app. View your taxi's real-time progress directly on your iPhone lock screen and notification panel. Also, they can see the ETA, driver details, and any updates.

Latest UX/UI design

Our Uber app clone UI/UX design is the pinnacle of user experience, meticulously crafted through extensive research. We aim to enhance the user experience by offering a convenient and user-friendly app.

User Rewards

You can earn coins for every taxi ride you take. The more miles you ride, the more coins you earn. Also, you can use your coins to redeem rewards, like discounts on future rides or other cool stuff.
Try our Uber clone app demo now!
We let you try our taxi app demo for free. You can download it on your smartphone and test it in real-time. Try it in every possible situation and experience its fluidity, leaving you impressed.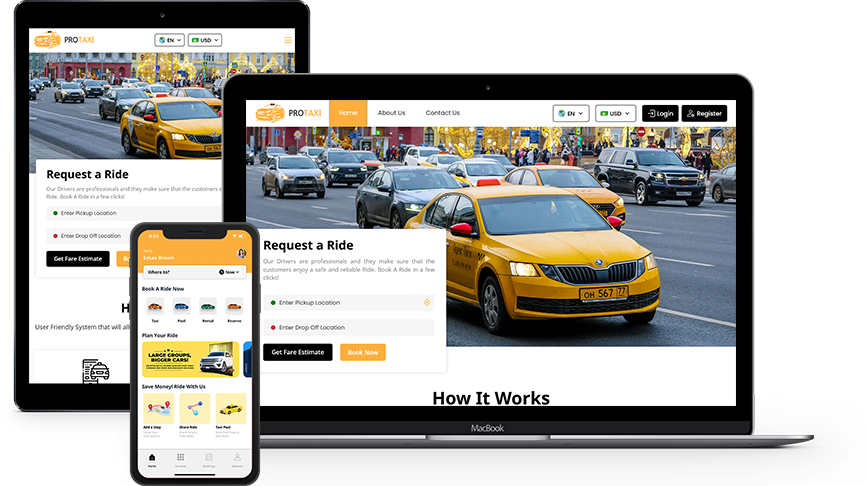 V3Cube developers for lifetime
Our V3Cube family strives to excel for our Clients, aiming for success in all our undertakings.
Watch the video to hear about our client's experiences with other companies. They worked with them for 10–15 years, but the companies never delivered the promised products and took their money.
Listen to our clients share their experiences working with us. Our client bestowed the title "Developers for Life" for our punctual delivery and dedicated support from our Project Managers. We also encouraged other businesses to work with us.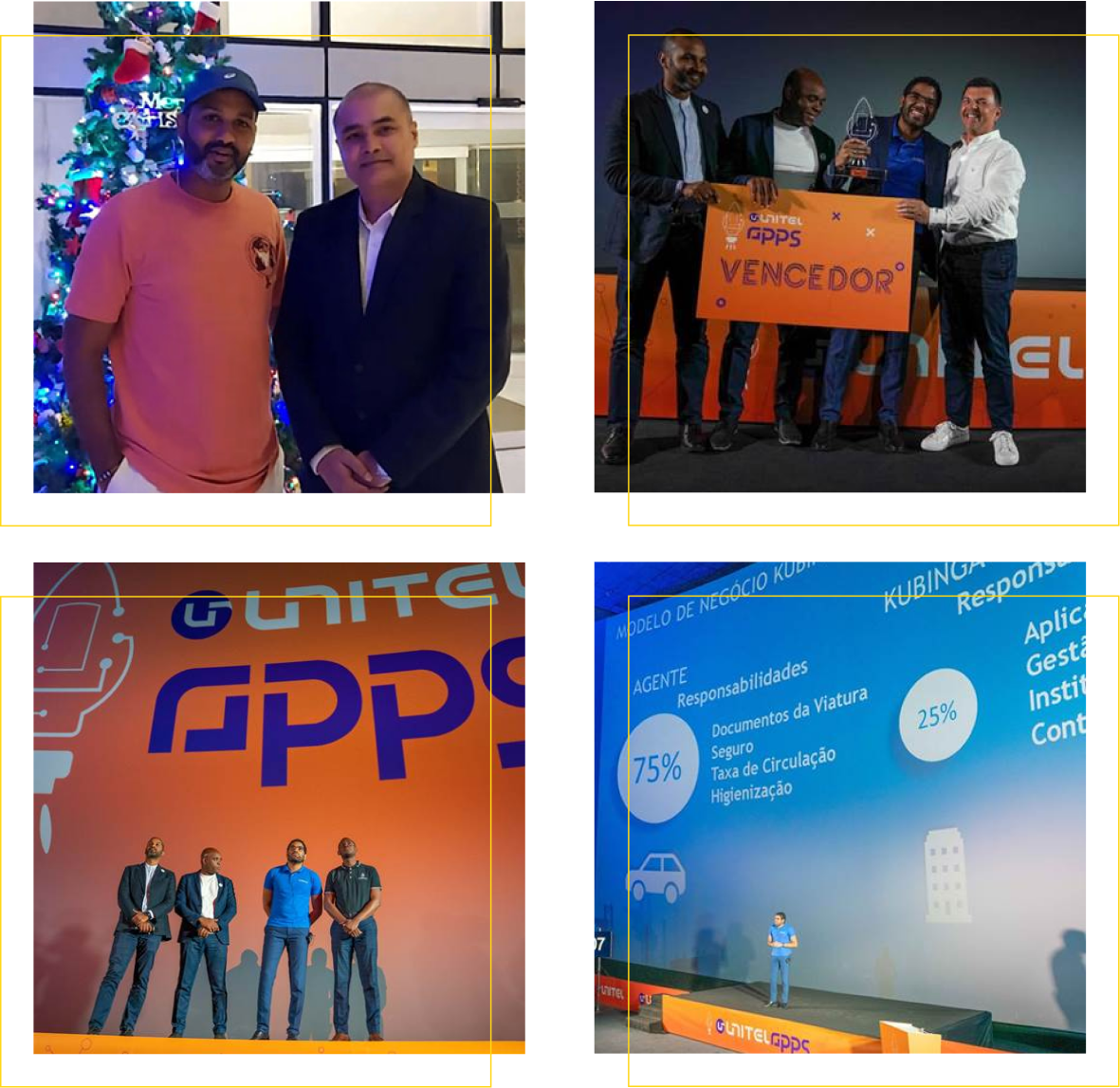 Our App Named Best Angola Taxi Service Startup!
Our app helped our Angolan clients win the digital startup competition.
We strive to create a product that exceeds all expectations, leaving no room for dissatisfaction. We meticulously refine every aspect while thoughtfully designing each feature to enhance and sustain your business. We aim to provide a white-label Uber-like app while sharing our wisdom to help you succeed at every stage.
*Please note that all the details mentioned above are here after receiving approval from our client.
OUR TEAM
Involved with you in the processing of acquiring Taxi Apps
For Project Execution & Delivery Team of 52
Smooth Delivery & Purchase Process
We are specialists in Taxi app development — #1 worldwide.
We pride ourselves on creating the world's most advanced taxi system. Enable you to go live with your branding in just one week.
We've simplified the purchase and delivery process, allowing you to concentrate on your business. Watch the video below to observe the seamless and straightforward procedure.
Frequently asked questions (FAQ's)
Rider Panel
Driver Panel
Website & Admin Panel
What technology is Taxi Rider App built in?

The Taxi Rider App utilizes native technologies, relying on Swift for the iOS app and Java for the Android app.

Do the Apps have a limit on the number of Riders?

No. Our Taxi booking application has no limit; Unlimited Riders can register on the App.

Have you taken care of the Ride Cancellation Process?

Yes.

Can riders pay via their preferred means on the App? Like Wallet, Cash or Cards?

Yes. Our taxi app has all 3 ways to accept money via rider - Internal Wallet, Cash and Credit Card. A rider can pay via his preferred method.

Will Rider see the same taxi rates in all cities and countries?

Tailor your taxi app to each locale with our customizable vehicle and pricing options. Hence, you can define your vehicles and rates. Also, you can use the standard vehicles and rates that we provide.

I have more queries.

Feel free to write us at [email protected] and we'll come back to you with detailed replies.
What technology is the Taxi Driver App built in?

Leading taxi app innovation, we've developed the Taxi Driver App with user-centric design at the core. We developed iOS in Swift (XCode) and Android in Java (Android Studio). We built our App on native technologies, not React Native or Flutter.

Does the on demand Taxi booking software have a limit on the number of Drivers?

Expand your driver network without restrictions with our taxi booking app.

Does the Driver register on the App and start accepting rides? What if the Driver is a criminal? I want to approve all Drivers before they can take rides in my Apps.

Drivers can register on the app and upload their documents. So, the app administrator will check their details and approve them to go online and accept rides.

What if the rider pays the driver in cash? How can I still get my commission from him?

Contact us for such queries. We have been doing Uber clone for a long time and have thus taken care of all such scenarios. We've designed the app's flow to ensure you, as the App owner, will always have clarity and comprehensive coverage.

I want to prevent my drivers from getting requests from crime-prone areas.?

We have advanced geo-fencing features. You can decide from where your drivers must get a ride request.

I have more queries.

Feel free to write us at [email protected] and we'll come back to you with detailed replies.
What is the website for?

We give you a Website too in our package. You will need it for marketing purposes and showing your presence on WWW - the internet.

Can this app manage Drivers and Taxis for an individual with a Fleet of Taxis?

Yes, we do provide company panels as well. Moreover, users who own a fleet of taxis can register as a taxi company. As an App administrator, you can also manage their taxis through our system. Furthermore, you will earn from all Rides our platform facilitates.

Administrator Panel: How powerful is it?

The Administrator Panel is user-friendly, powerful, and flexible, making taxi business management effortless. This includes fleet and vehicle management, rates, revenue, payments, reports, etc.

Do you provide separate panels for billing and manual taxi dispatching?

Yes

What if some passenger calls me and wants to book a taxi? How do I allow a driver to him?

Optimize driver management and rider satisfaction with Manual Taxi Dispatch and God's View.

I have more queries.

Feel free to write us at [email protected] and we'll come back to you with detailed replies.
What our clients are saying ABOUT US
We practice an NDA policy, which means there is complete privacy when we work with our clients. Our website protects client privacy by withholding app purchase details like business names and locations. Our clientele comprises entrepreneurs and agencies leveraging our white-label Uber clone script to establish their taxi booking services.
We launch two new products every day. Our customers are very happy with our work and have given us video testimonials. Also, you can watch their testimonials to learn more about us.
Recent blogs of Taxi App Solution
Top-Selling Uber Clone Apps To Launch in the Market
Our Uber-inspired Taxi App Solution facilitates a smooth transition of your traditional taxi business into the digital realm. Experience exponential growth and cater to high-demand markets with ease.
Our versatile solution goes beyond managing standard taxi services. It handles various transportation needs, including rentals, pooled rides, motorcycle services, deliveries, and parcels. Whether you aspire to create a Taxi App akin to WeGo for Cambodia, emulate Rydo's success in Australia, or mirror Gett's functionality in the UK, we offer tailored customization to meet your exact needs.
Unlock the potential of your taxi business, enhance customer satisfaction, and streamline with our feature-rich On-Demand Ride-Hailing App Solution.
Which On-Demand Taxi App Solution Tops Global Launches?
Choose from the leading Ride-Hailing App Solutions designed to enhance your brand and global business profits.
GOJO clone:
Conquer the Malaysian Taxi Market with Gojo Clone Taxi App. Inspired from its parent app Gojo, unleash seamless On-Demand Rides, Contactless Door-to-Door Deliveries, and Intercity Travel.
ExCab clone:
Easy (EzCab), Malaysia's Premier E-Hailing App Providing Seamless Transport Booking for Taxis, Private Cars, Executive, and Luxury MPVs. Empower Your Users with EzCab Clone, enabling them to book taxis Anywhere, Anytime with Unmatched Convenience and Flexibility.
WeGO clone:
Embark on Ride-Hailing Success with WeGO Taxi: Ideal for Entrepreneurs Launching a Taxi App in Cambodia and Beyond. Develop Your Own Wego Clone Taxi App to Deliver Lightning-Fast Taxis, Tuktuks, and Autos for On-the-Go Travel.
Vinasun clone:
The Vinasun Taxi Booking script allows riders to order taxis from their smartphones. Establish market dominance with a Tailor-Made Vinasun Clone App and conquer the Vietnamese Market.
BOLT clone:
Launch a BOLT Clone App to enter the Thailand Taxi Market and serve modern-day riders. This user-friendly app provides a simple interface, fast booking, and convenient features for a seamless rider and driver experience.
PinkTaxi clone:
Pink Taxi is Egypt's Exclusive Women-Only Taxi Service promoting safety and comfort for Drivers and Passengers Alike. Stand Out from Other Egyptian Taxi Apps by Launching the Pink Clone Taxi App, Catering to Women's Transportation Needs.
Abu Dhabi Taxi clone:
Abu Dhabi Taxi is the go-to app for seamless doorstep taxi services in the UAE. Create your own Abu Dhabi clone with personalized features and advanced functionality to establish market supremacy in the UAE.
Curb Taxi clone:
Curb Taxi is a New York Taxi App that provides on-the-go rides to locals and travelers in the area. If you aim for a strong presence, the Curb Clone Taxi App, with its all-new features, is ready for deployment.
Cabify clone:
The taxi booking apps, similar to Cabify, have garnered widespread acclaim and interest worldwide. The app's vast potential has drawn entrepreneurs ready to invest in a Cabify clone.
GETT clone:
Nowadays, customers desire rapid access to on-demand taxi booking services. Using a Gett Clone Script is the easiest approach for companies to launch an on-demand taxi app in the UK.
13Cabs clone:
Customers of TaxiApp, a well-known taxi app in the UK, can ask for a ride today or in a week. permitting wheelchair access, pet travel, and more. Launch a TaxiApp clone with a distinctive look and specialized features to win over your UK users. The 13Cabs app clone offers affordability, reputation, and reliability in Australia for a fast-profit taxi business launch.
Rydo clone:
Revolutionize the taxi industry and maintain a competitive edge, introducing the Rydo Clone App with similar advanced features. Users can pay via stored cards or to the app's driver, choosing their preferred taxi service.
HOPIN clone:
Experience the convenience of HOPIN, Nigeria's thriving taxi app, right at your fingertips. Extend the success of HOPIN to new regions within Nigeria and worldwide by launching the HOPIN Clone App. With its innovative features and seamless functionalities, this app completely transforms the way you book taxis.
NOK clone:
Meet Nigeria's growing transportation demands with NOK, a secure, fast, and convenient taxi service app. Create a NOK Clone Taxi App to cater to the expanding transportation needs in Nigeria.
99taxi clone:
Introducing 99 - Private Driver and Taxi Clone App, offering Brazilian riders seamless access to your on-demand taxi services. Customize it according to your preferences using our smart and mobile-responsive white-labeling solution.
Taxi.Rio clone:
Streamline your fleet management and serve Brazilian riders with the Taxi. Rio Clone App Solution. Unveil a holistic solution encompassing vital features, ensuring an outstanding user experience and driving substantial revenue growth in Brazil.
Ride clone:
Start your Ethiopian taxi business with our white-label tech solution, RIDE Clone. It offers Android and iOS apps for drivers/passengers and an intuitive admin dashboard for smooth management. Tailored to excel in the Ethiopian taxi market and guarantee your triumph within the industry.
Zayride clone:
ZayRide, Ethiopia's pioneering e-hailing ride-hailing service, is expanding to Monrovia, Liberia. Customize the ZayRide Clone with a powerful interface to manage and automate your dispatch and tracking process. This intuitive Taxi App Solution optimizes dispatch operations for maximum efficiency and effectiveness.
Kaiian clone:
Stay ahead of the competition and maximize your taxi business potential with the Kaiian Clone Taxi Booking App solution. Seize innovation with your Kaiian Clone App in Saudi Arabia, securing your market presence and success.
Advanced Algorithms Powering Our White-label Uber Script
Customer Model: Hassle-Free Ride Booking for Customers
Users can fill in their trip details in the customer model and request a ride through the app. The app will present them with a quote, estimated arrival time (ETA), and the driver's details. This allows users to choose the most suitable ride option and confirm bookings. Furthermore, our Uber Clone Script will enable customers and drivers to communicate clearly through video calls or in-app chat.
Driver Model: Efficient Ride Matching for Drivers
Our system finds the nearest available driver when a customer requests a ride. The driver who accepts the request first will get the ride. Customers will receive information about their ride, including the estimated arrival time (ETA). Therefore, customers secure rides, and drivers stay informed about their upcoming trips.
Book Taxi using iWatch App Solution
Introducing a seamless ride-booking experience with iWatch integration, we present an innovative feature in our on-demand transportation app. Users can now book rides using their iWatch. This futuristic option offers a bright and convenient way to hail taxis with ease. Whether launching a new app or upgrading, integrating this cutting-edge feature enhances your services.
Users must pair their Apple Watch with iPhones to enjoy this new capability. Upon the first Apple Watch app launch, the software requests sign-in or registration via the downloaded iPhone app. It directs to the Taxi Selection Screen. Once booked, passengers may confirm their trips, pay, examine expected arrival times, and leave feedback.
With our iWatch integration feature, you can take your ride-hailing service to the next level and outshine the competition. By delivering seamless functionality through iWatch, you can offer a superior user experience that distinguishes you from others.
Discover Customizable Components of Uber Clone Solution
Gain a Comprehensive Understanding of the Stellar Features and Working of All Modules in the Uber Clone App
User/Rider module
Choose Pickup Location
You can set your pickup location in three simple ways. One by entering the address, dropping a pin on the map, or selecting from pre-saved locations.
Explore Vehicle Options and Rates
Select your preferred car type, whether it's a hatchback, sedan, or SUV, and view the corresponding rates before booking your ride.
Estimate Fare in Advance
Get an estimated fare for your trip based on the pickup and drop-off locations you provide. This helps you plan and budget your ride accordingly.
Earn User Rewards
You can earn coins for taking taxi rides. So, the more miles you ride, the more coins you earn. You can use these coins to get discounts on future rides or other rewards.
Live Activity
It lets the user track the ride in real time from the iPhone lock screen. You can also view this from the notification panel. Also, the Live Activity feature shows vehicle and driver information, ETAs, and ride updates.
Driver module
Robust dashboard
The driver's module allows the drivers to accomplish various activities like social media login registration, uploading documents, ride request, cancellation of rides, rider's ratings, getting notification of money collection, set preferred languages/currencies, managing vehicles, upcoming trips,
Back-to-back trips
Eliminate waiting time for taxi drivers by letting them seamlessly go from one ride to another. This feature improves their workflow and ensures they always have a ride to pick up, making them more efficient.
More trips more rewards
Taxi drivers can advance to higher levels by meeting specific requirements. For example, maintaining an average rating of 4.8 stars or above. This system motivates drivers to provide excellent service and rewards them for their efforts.
Admin Module
Advanced Backend Management/CRM
The Advanced Backend Management System is a powerful tool. Hence, allowing the administrators to seamlessly manage taxi services.
Revenue and Payroll Management
The Revenue and Payroll Management section overviews their earnings and driver payments. Thus helping the administrators manage their finances.
Real-time Tracking (God's Eye View)
The Real-time Tracking feature, God's Eye View, seamlessly manages your business operations. Thus offering administrators the flexibility to run their businesses stress-free.
Surge Pricing Configuration
You have the flexibility to set surge pricing during peak hours or special events, which can maximize your earnings.
Manual Taxi Dispatch Capability
The Manual Taxi Dispatch System allows the admin to manually process ride requests from users without the Uber Clone app, assisting them through telephonic communication.
Driver Management and Performance Monitoring
Efficiently manage drivers and track their performance metrics, ensuring a high-quality fleet for your taxi service.
Analytics and Reporting
Use analytics and reporting tools, thus enabling you to make better decisions for your business.
To know the significant list of features, connect with the App Representative now!
Tailored Taxi App Solution for Diverse Business Needs
Transform Your Ride-Hailing Business with the Uber-like Taxi App and launch your taxi business globally. Embrace modernization and meet the growing transportation demands by offering on-the-go taxi rides via an app that is been tailored to suit your specific needs.
Here are some key services you can offer:
On-Demand Taxi Services:
Boost your ride-hailing business with our Uber-like taxi dispatch app. Enjoy benefits like increased rides, enhanced customer service, improved brand visibility, time savings, cost reduction, and revenue growth.
Taxi Rentals:
Stay ahead of the competition by offering fully customized and branded taxi rental services. Provide options for renting, leasing, and fleet management services similar to Uber.
Moto/Bike Rentals/Rides:
Our Moto/Bike Rental Ride services can help you cater to the growing demand for two-wheeler transportation. Hence, our feature-rich solution is a one-stop platform for bike rentals and rides.
Taxi Pooling:
Enable taxi pooling services using our best-in-class Taxiify Clone App. Enhance the user experience for both drivers and customers by providing an excellent platform for shared rides.
Upgrade your ride-hailing business, optimize operations, and deliver an exceptional experience to your customers with Top Taxi App Solution.
App Technology Used To Build An App Like Uber
At our development center, we leverage the power of modern and highly sought-after app technologies to create the Best Uber clone app. Our tech stack includes MongoDB, AngularJS, and NodeJS to ensure a robust and scalable solution. Additionally, we utilize PHP, Bootstrap, JAVA, Swift, jQuery, MySQL, and Socket Cluster, and deploy on Linux. Our expertise extends to Android and iOS platforms, integrating essential tools like Google Analytics and leveraging the power of AWS.
By harnessing these contemporary programming language solutions, we empower business executives to effortlessly manage their operations. Experience hassle-free business management with our technologically advanced Uber app clone.
Distinctive Features Enhancing Your Clone Uber App
Multiple Payment Gateways
We understand the importance of offering a robust and secure payment gateway to meet the requirements of our valued customers. To fulfill this need, we provide you with carefully selected Payment Gateways that are perfectly tailored to your geographic region and demographic preferences.
We prioritize reliability, safety, and the highest online payment security standards for all ride-hailing app transactions. Trust your payment process; we use the most suitable Payment Gateways in the Uber Taxi Clone App.
Furthermore, if you have certain requirements regarding payment gateways, talk to our App Representative to assist you.
Express Your Brand with Customizable App Colors and Logos
Easily customize your app's color scheme and logo without technical assistance. The customization section provides a selection of proven colors, ensuring your app aligns perfectly with your business standards.
Choose from various languages
Our Uber Clone Taxi App seamlessly integrates unlimited languages, letting you select and change the language that best suits your business needs. This language integration feature is especially useful for business owners operating in multiple regions. You can now manage your business operations in your native language, thanks to our comprehensive language support. Say goodbye to geolocation barriers and run your business efficiently and effectively, regardless of the language spoken in different regions.
Easy Currency Customization
Our dynamic currency integration makes handling multiple local currencies in your business easy. Our latest algorithm automatically retrieves currency details, so you don't have to manually manage currency rates. This ensures that you stay up-to-date with the latest exchange rates.
Multi-City Fare for Better Brand Visibility
Effortless Business Expansion Across Multiple Countries
Your Taxi Business might be active in several nations, or you might be considering extending your offerings. Guess what, though? Thanks to a great feature in our admin dashboard, you can quickly add and manage your business in various countries. You can provide crucial information for each country, such as the currency symbol, country code, and distance unit.
Additionally, you may set up referral programs for customers, vendors, and partners. You can also display adverts and set up payment information in the user panel. The best thing is that you can start and stop your business whenever you like. Giving you flexibility and control is our top priority.
Seamless Expansion to Multiple Cities
Running a Taxi Business in multiple cities can be challenging when managing transactions and communication. Our convenient feature streamlines multi-city taxi business management for administrators from one location. This feature provides all the necessary information about each booking, including transaction and communication details.
Administrators can effortlessly expand the business by adding new cities through the Uber Clone App Admin Panel. Administrators can specify city names and service types and easily toggle services on and off as needed.
Flexible Fare Options within the Same City
In the world of taxi-hailing, each service type has its own pricing. It varies depending on the style. We understand these fluctuations; thus, we have included convenient features allowing administrators to set prices accordingly.
They can customize charges based on the type of vehicle, distance travelled, and even specific time frames. Thus, to ensure fairness, the admin can also establish a minimum fare as a starting point for all rides.
The Best Uber Taxi Clone Revenue Model Includes
Commission:
Earn a percentage of the total fare paid by riders for each trip. This serves as the primary source of income for your business.
Surge Pricing:
Increase prices for on-demand services during peak hours or in high-demand areas. Take advantage of the increased demand to maximize your earnings.
Premium/XL Rides:
Offer various ride options to attract riders with different needs and budgets. Premium rides typically yield higher profit margins, so you can generate more revenue.
Ride Cancellation Charges:
Implement charges for customer-initiated ride cancellations, adding to your revenue streams.
Subscription Fees:
Giving your users access to premium features when they subscribe. This includes discounted VIP services and exclusive discounts or promo codes.
Third-Party Ad Banners:
Allow third-party services to advertise in your taxi booking app. Hence, generating additional revenue.
Explore these revenue streams to enhance your business's financial success and diversify earnings.