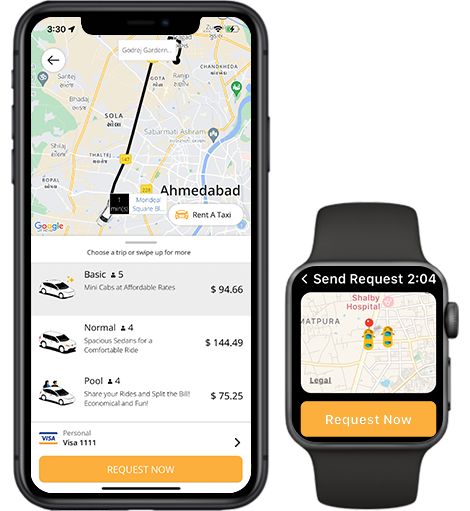 What is Uber Clone?
Uber Clone is an app-based taxi booking solution designed to connect riders and drivers quickly: a white-label, fully customizable Uber clone app to run all your ride-hailing services seamlessly. Our apps are well-developed, tested, and feature-rich. Our robust admin panel makes it easy to manage the taxi business from a single dashboard.
To book a taxi ride on the app, Users must enter the pickup and drop-off locations, select the type of car they want, and choose their preferred payment method. This taxi app is the best way for users to get around the city, while it is an easy income generator for drivers. For business master minds like you, this app is the fastest escalator to success and the key to earning hefty profits.
What do we offer in our Uber App Clone Package?
Approved on Google Play Store and Apple App Store, Our Uber like app solution will work flawlessly on all personal digital assistants like iPhones, iPad, Android Phones, and Android Tablets.
White label Uber clone script includes:
User Apps
Rider iOS App
Rider Android App
Rider Web Panel
Kiosk Android App (Optional)
Taxi Booking iWatch App (Optional)

Driver Apps
Driver iOS App
Driver Android App
Driver Web Panel

Website & Admin Panel
Main Website (Marketing Responsive & Booking of Taxi)
Taxi Fleet Company Management Web Panel
Manual Taxi Dispatcher Web Panel
Billing Administrator Web Panel
Administrator Web Panel

Supporting Panels
Organization Web Panel (For Corporate Rides)
Hotel/Tourist Office Booking Panel

Build an App like Uber
What makes us the #1 Uber clone app development company? Our interactive, well-designed, and superbly coded scripts can take your taxi business online in just one week. Similar to Uber, your white label taxi booking app will also have multiple features to help provide a world-class experience to your customers.
Geo-fencing, multiple online payment methods, push notifications, real-time location tracking on the map, emergency contacts, auto-generated invoices - every advanced feature you can think of comes pre-integrated into our source code.
Wondering if our business solutions are affordable? Yes, they are from developing to launching Uber clone in Malaysia, Philippines, Cambodia, Thailand, Vietnam, Brazil, Nigeria, Canada, UK, Kenya, UAE, US, Egypt, Indonesia, Ethiopia, Mexico, and other countries, Starting taxi companies like Uber anywhere without burning a hole in your pocket.
Let's create an app like Uber today!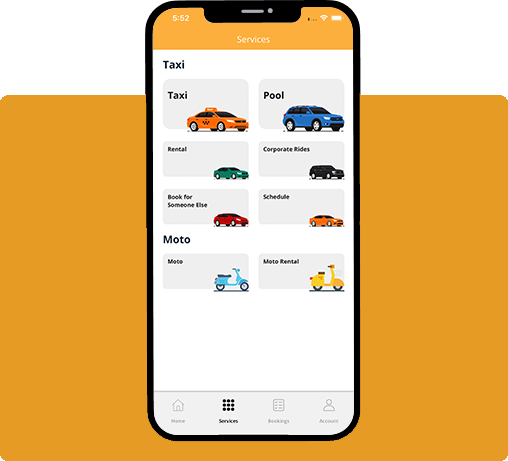 Commitment Delivered - 100%
Take a look at this video to understand the credibility of our company as well as knowledge about how we have won the heart of our amazing clients by standing true to the commitment made by us. Our motto is simple - honesty, transparency, and 100% hard+ smart work.
Taxi Booking App Features
We leave no stone unturned to offer you something unique and mind-blowing. See what's new in our Uber clone software feature list!
Live Activity

Taxi rides can be tracked in real time without opening the app. Live activities show the ride's progress, vehicle and driver details, the latest ETA of the trip, and the ride updates on the rider's iPhone lock screen and notification panel.

Latest UX/UI design

We have constructed our Uber app clone UI/UX design with R&D and rigorous execution of design concepts. We aim to help you enhance your user experience by offering users a convenient and user-friendly app.

User Rewards

Users can earn coins on every taxi ride they make. For every mile users ride, they earn coins that are credited directly to their In-app wallet. The more rides the user completes, the more reward coins they earn.
Try our Uber clone app demo now!
We let you try our taxi app demo for free. You can download it on your smartphone and test it in real-time. Try it in every possible situation and be impressed by its fluidity.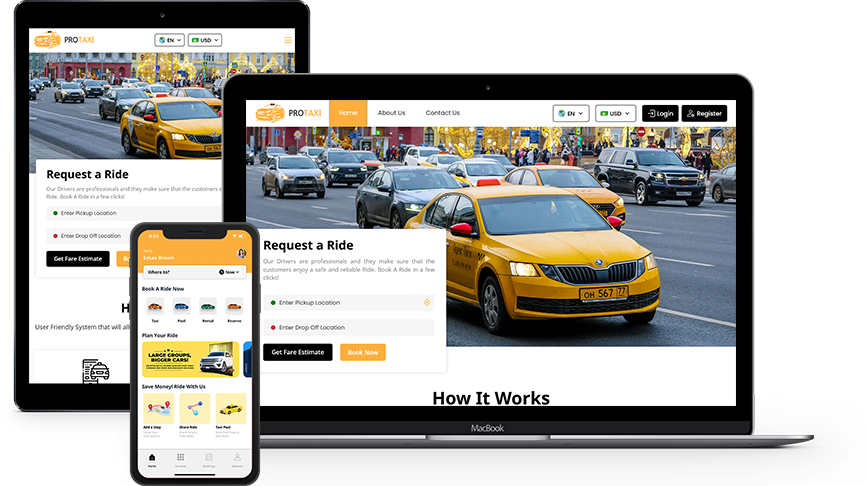 V3Cube developers for lifetime
Our V3Cube family works with the mantra to always make sure to keep our best foot forward for our clients and also keep perfection as the sole motto behind what we do.
Take a look at the video to see what clients have to say about us. Watch the video to get a glimpse into their experience of working with other companies in their ten to fifteen-year-long tenure and how they didn't deliver the product they promised and took away all their money.
Listen to them after go on to share their experience working with us, discussing the timely delivery of the apps as per the promise, and ending it by commending the project manager for the sincere support, awarding us the title "Developers for Life" and motivating other businesses to work with us.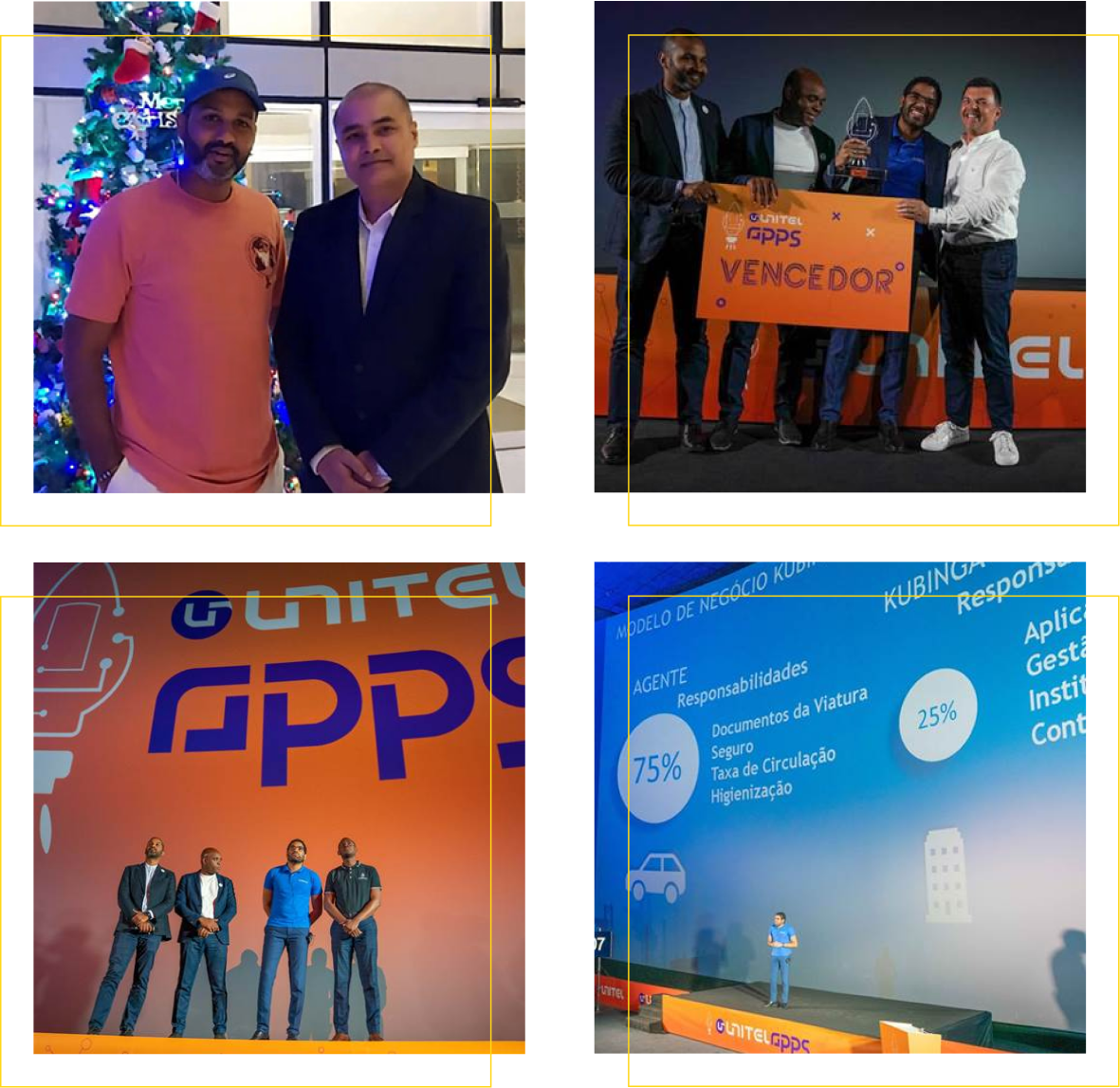 OUR APP GETS CROWNED AS THE BEST Angola taxi service startup!
You know you are on to something special when you get recognized. We are proud to inform you that our app helped our clients in Angola to bag the first prize in the digital startup competition held there.
We toil to ensure that our product leaves nothing else to be desired. Every single kink is smoothened, and every feature is made to ensure it promotes and supports your business. We aim not just to sell you a simple white label Uber like app but to share our wisdom and experience to ensure you can fine-tune your strategies to attain success at every step.
*Please note that all details mentioned above are only here after approval from our client.
OUR TEAM
Involved with you in the processing of acquiring Taxi Apps
For Project Execution & Delivery Team of 52
Smooth Delivery & Purchase Process
We are specialists in Taxi app development — #1 worldwide.
We take pride in having coded the world's best and most advanced taxi system with which you can go LIVE in just 1 week with your brandings.
We have emphasized making the purchase and delivery process simplest as possible so you can concentrate more on planning your business' & operations and less on technical dealings with us. See the below video to understand how smooth & simple the delivery and purchase process is.
Frequently asked questions (FAQ's)
Rider Panel
Driver Panel
Website & Admin Panel
What technology is Taxi Rider App built in?

Taxi Rider App is built using the latest Native Technology. The iOS app is built in Swift, and the Android app is built in Java.

Do the Apps have a limit on the number of Riders?

No. Our Taxi booking application has no limit; Unlimited Riders can register on the App.

Have you taken care of the Ride Cancellation Process?

Yes.

Can riders pay via their preferred means on the App? Like Wallet, Cash or Cards?

Yes. Our taxi app has all 3 ways to accept money via rider - Internal Wallet, Cash and Credit Card. A rider can pay via his preferred method.

Will Rider see the same taxi rates in all cities and countries?

Our taxi Application allows you to define different vehicles and their rates per city and country if you want to. You can also keep standard vehicles and rates if you wish.

I have more queries.

Feel free to write us at [email protected] and we'll come back to you with detailed replies.
What technology is the Taxi Driver App built in?

Taxi Driver App is built with the latest Native technology. iOS is built in Swift - XCode and Android is Java - Android Studio. Our App is not built with react native or Flutter but purely on native technologies.

Does the Taxi booking App have a limit on the number of Drivers?

No. Our taxi booking App does not have any limit, Unlimited Drivers can register on the App.

Does the Driver register on the App and start accepting rides? What if the Driver is a criminal? I want to approve all Drivers before they can take rides in my Apps.

Drivers can register on the App and must upload their licenses, car documents, etc. As the App Administrator, you must check the Driver's detail. Upon your approval, the Driver can become online and accept rides.

What if the rider only pays the driver cash? How can I still get my commission from him?

Contact us for such queries. We have been doing Uber clone for a long time and have thus taken care of all such scenarios. We have made the flow of Apps so that you, as the App owner, will never be lost and always be covered.

What if I dont want my drivers to receive request from Crime prone areas of my city as I dont want my drivers to be in trouble?

We have advanced geo-fencing features. You can decide from where your drivers must get a ride request.

I have more queries.

Feel free to write us at [email protected] and we'll come back to you with detailed replies.
What is the website for?

We give you a Website too in our package. You will need it for marketing purposes and showing your presence on WWW - the internet.

What if a person has a fleet of taxis - will he be able to manage his Drivers and taxis through Apps?

Yes, We do provide Company panels too. Users with a fleet of taxis can register as a taxi Company and manage their taxis through our System. You make a commission on all their rides.

How powerful is Administrator Panel?

You can manage all Vehicles, their rates, your revenue, accounts, reports, app settings, etc., via Administrator Panel. The Administrator Panel is extremely dynamic, robust and user-friendly.

Do you give separate panels for Billings and Manual Taxi Dispatcher?

Yes

What if some passenger calls me and wants to book a taxi? How do I allow a driver to him?

You can use Manual Taxi Dispatch feature and book a driver for him using God's View feature.

I have more queries.

Feel free to write us at [email protected] and we'll come back to you with detailed replies.
What our clients are saying ABOUT US
We practice an NDA policy, which means there is complete privacy when we work with our clients. There is no mention of the apps they purchased from us, their business names, location, and so on anywhere on our website. Please note all our clients are either entrepreneurs or agencies looking to resell our product after the creation of the white label Uber clone script.
We are glad to inform you that we launch 2 products worldwide daily. Our clients are extremely satisfied and happy with our work and gave us video testimonials and permission to release them. See below to find out what our customers have to say about us.
Recent blogs of Taxi App Solution