Why Do Entrepreneurs Trust V3cube?
Our Ready-made Solutions are Perfectly Tailored to the Current Market and have the potential to generate Amazing Revenues from every service booked via the app.
We take Pride in always Delivering the Best Quality Services to our Esteemed Clients! Many Entrepreneurs have praised our Dedication, Excellent Communication, and Quick Response. A lot of our Clients have already expressed their desire to Work with us Again on Future Projects.
At V3Cube, we prioritize Client Satisfaction above all else, making us the most Reliable Partner you can count on for all your Business Needs.
What We Offer in Uber for Tow Trucks App
Our Honk Clone App Package consists of every High-end Solution Entrepreneurs need. Using our Pre-built Script, you can Easily Kick-start your own Online Tow Truck Business.
See what We Offer in your Script:
Tow Truck Driver/Roadside Assistant Website
User/Car Owner iOS App
User/Car Owner Android App
User/Car Owner Web Panel
Tow Truck Driver/Roadside Assistant iOS App
Tow Truck Driver/Roadside Assistant Android App
Tow Truck Driver/Roadside Assistant Web Panel
Tow Truck Driver/Roadside Assistant Company Web Panel
Admin Web Panel to manage the overall working of the App i.e. Payments, Commission, Rates, Tow Truck Drivers/Roadside Assistants, User/Car Owner, etc.
Uber for Roadside Assistance App - Workflow
Sign up or login: Users and the Tow Truck Service Provider can Sign Up using their Social Accounts like Facebook and Google. They can use Face ID/Fingerprint to log into the App.
Add mobile number and verify: The user needs to Add their Mobile Number and Verify it with an OTP.
Select service: The user selects the Roadside Assistance Services they need.
Filter search results: The user can filter the Search Results based on Price, Proximity, and Ratings.
Choose the Tow Truck driver: The user chooses the Tow Truck Driver of their choice depending on their Gallery, Review, and Ratings.
Select mode of payment: The user adds the Services and Selects the Payment Method of their choice - In-app Payment, Cash, Credit/Debit Card.
Send Request: Users can send the request to the Tow Truck Driver with a click.
Booking confirmation: As soon as the Driver accepts the request, the user receives the Confirmation Notification and they can start tracking the Driver's location in real-time.
Service starts: Once the Driver arrives, they verify the OTP and Start the Service.
Service marked as complete: After the service provider marks the service as complete, the invoice is generated.
Payment and review. The user pays for the Service and shares their Rating and Review.
Tow Truck Roadside Assistance App Visuals
View the Graphical Flow of our User and Provider App and learn how they work.
Free Features of Our Cubetow Truck App
Here are some Free Features we offer you with our Uber-like Mobile App Script for your Towing Truck Business.
Core Features of Our Tow Truck App
Look at the state-of-the-art features that make our Uber for Tow Trucks App so popular and successful.
Car Owner
Tow Truck Driver App
Website
Admin Panel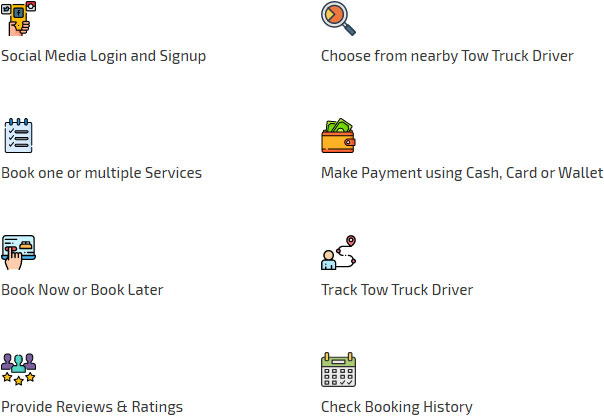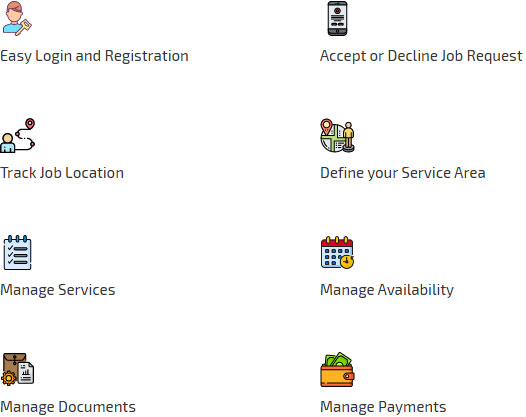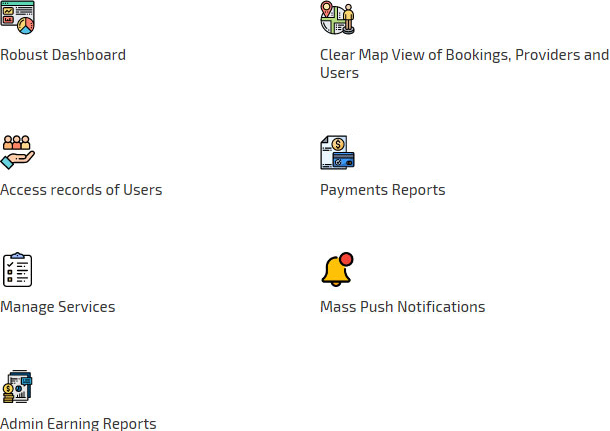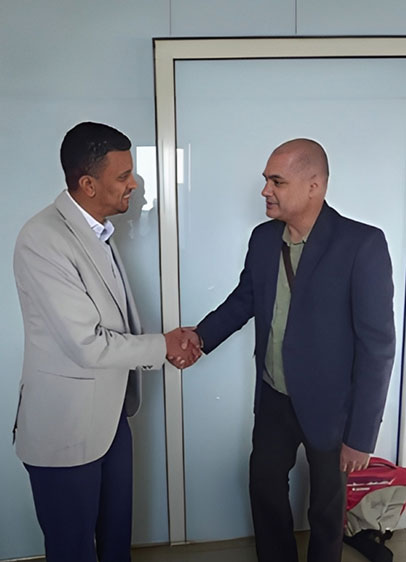 V3cube: Delivering What We Commit!
Tired of working with unreliable White-label App Development Companies?
V3Cube is Different!
We deliver Perfection to our Clients, unlike other Companies that charge High Fees and Fail to Deliver on their Promises.
Our Timely App Delivery and Dedicated Support make our clients so Happy that they call us "Developers for Life." Also, our Clients know that they can always count on us to deliver the Best On-demand Apps.
Watch more than a Hundred Video Testimonials. See why our clients praise our Reliability, Quick Delivery, Transparent Pricing, and Exceptional Support. Learn from Real Entrepreneurs why we are the Best White-labeling Experts out there!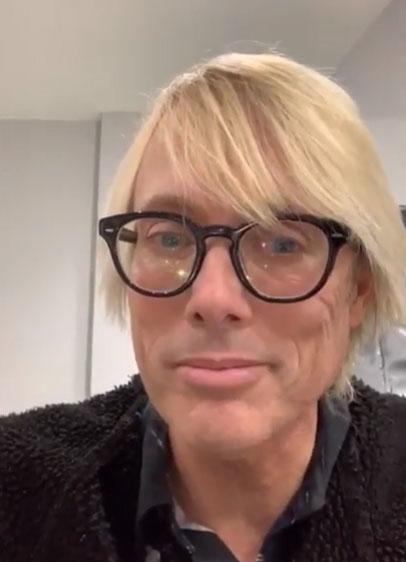 How Much Does It Cost to White-Label a Tow Truck App?
Do you want to White-label the On-demand Tow Truck App and launch it quickly on the App Stores? Well, scratch off the idea of building the app from the ground up. It's time-consuming and Expensive to build a Honk Clone as you will need to hire an Entire Team, gather Right Technology, pay Monthly Salaries, etc.
On the flip side, a Pre-built White-label Solution is a Pocket-friendly Investment. Moreover, you get to integrate all the Trending Features in the app! So, go through our Uber for Tow Trucks Package and see what you'll get with its purchase.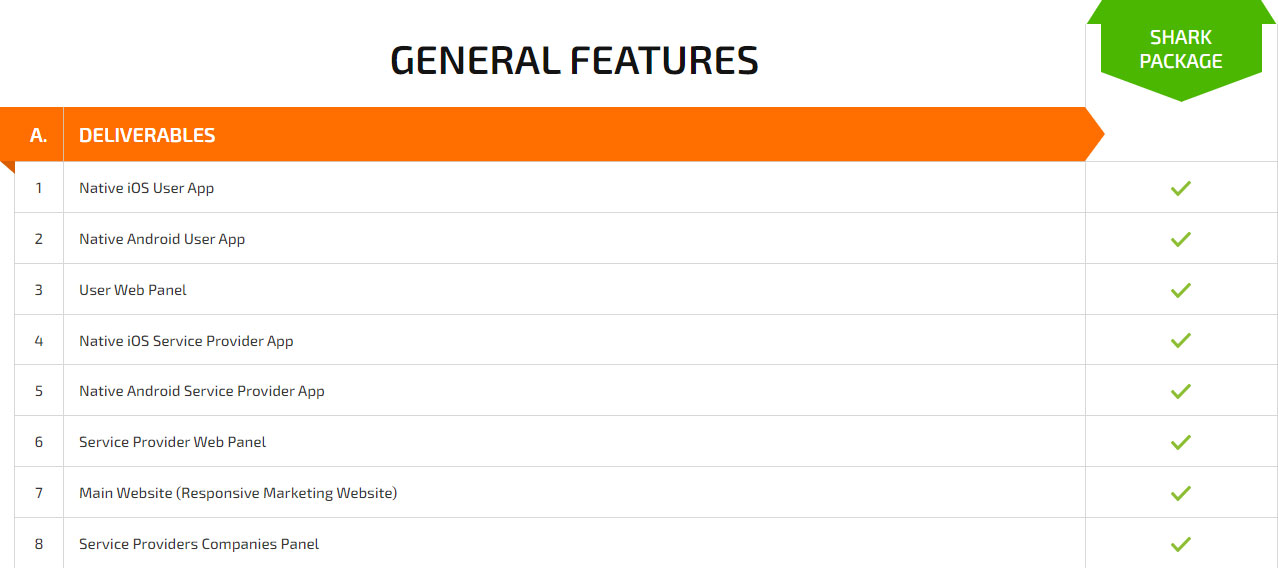 View Features & Pricing
Responsive Website
Our Responsive Website, built with the Newest Technology, is intended to help your Towing Truck Business soar. The Website includes High-end features such as Registration, Profile Management, Tracking Recent Bookings, and more. View the Graphical Flow to learn more about its Features and Functions.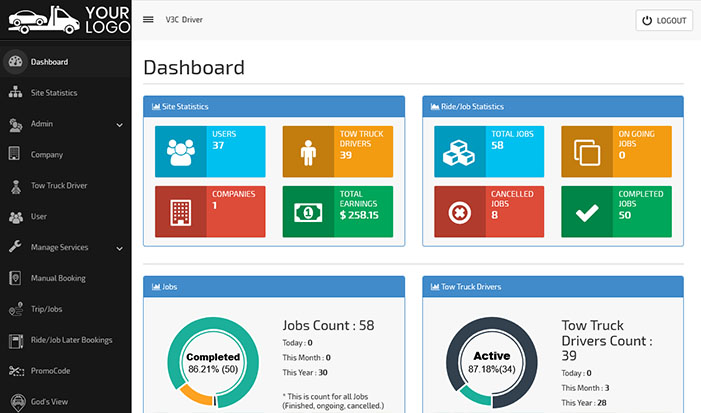 Admin Panel
Our Robust Admin Panel helps you view details of Tow Truck bookings, Control Activities, and much more. The Panel also makes it easy to Add/Remove Features, Pricing Structures, Manage Ads, etc. Go through the Graphical Flow to get more Details.
Frequently Asked Questions
Will you offer Post-App Launch Support?

YES! We will offer Support after your App goes Live. We will provide One-year Bug Support and fix any Technical Bugs that may appear in our Source Code.

What are the Key Revenue Streams?

You can make Commissions on every Roadside Assistance Service Booked via the App. Plus, you will make money from Third-party In-App Facebook/Google Ads on the App and Subscription Plans.

How Long does it take to complete a Project?

We take only 1-2 Weeks to White-label and Launch your On-demand App on App Stores and Servers.

Is Uber for Tow Truck Source Code Customizable?

Yes. You can Modify/Enhance the App. Ask your Technical Team to Customize the Source Code accordingly.
Hear Our Clients Share Their Real Experience
See what our Clients are saying about V3Cube! Hear them Speak their Hearts and Tell you why we are the Best at what we do, i.e., White-label On-demand Apps.
Contact Us Now