What is the Foodpanda Clone?
Putting our years of experience to good use, our creative team worked alongside our market research team to come up with a simple yet brilliant concept that would allow users to not just buy food online, but also other items such as staple groceries, pharmaceutical goods, alcohol, bottled water, stationery items, construction materials and much more. This FoodPanda app clone is one of the most technologically advanced and robust app that is available for you as a product in a ready made state!
We believe in providing our clients with a practical solution that their end customers will enjoy using. This is why; we have added some of the latest and most exciting features to it. Some of our top features include:
New design
'Take Away' feature
Contact less Delivery
Tip to Delivery Driver
Multiple Credit Card Management
Item photo with video & multiple images
Video Call Delivery Driver
Login using Face Id (In iOS Devices) and Fingerprint (In Android Phones)
Facebook Ads integration & Google Ads integration
New UI/UX of Sign in and Sign up Process (You can login using Mobile number, email address or social profiles like Facebook, Google account)
This is not just your average food delivery app. It is a multi product on demand purchase and delivery solution that is specifically built to be feature rich and practical, and, available in a ready to launch format for our clients.
This means that once you finalise this app for your business, you can go live in the market in less than a week's time and start making money! The flow of the app is similar to the FoodPanda app to ensure that your users find it absolutely easy to use and navigate through.
Also known as the DeliverAll app, this single download, single log in based on demand mobile app solution is the key to your success in the on demand food and grocery delivery market! The app works by allowing users to access a list of various shops and stores within their area from which they can place orders and get items delivered to their doorstep. Each time someone uses the app, you make money!
Representative Flowchart of The Foodpanda Clone Script
A step by step guide to the navigational flow of the app.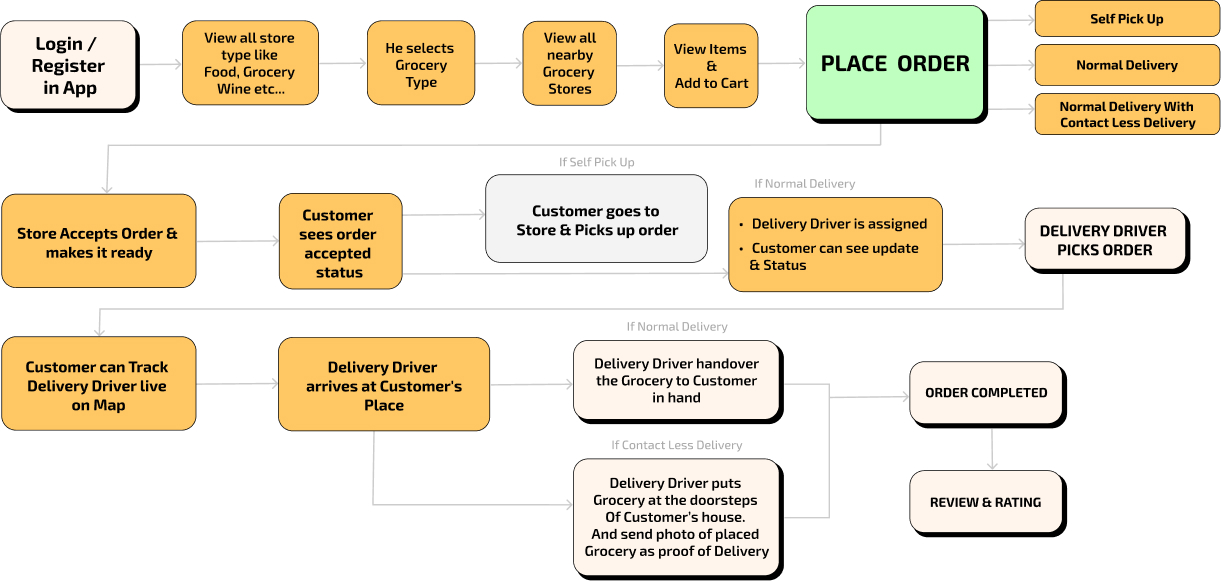 All-in-One Script: Food, Grocery, and More Delivery
An app is not enough. We provide you some of the best service offerings to make sure that our FoodPanda Clone app can be a practical and profitable market solution for your business.
White Labelled Source Code

We white-label the app post-purchase with your logo and brand name. We also add your custom colour theme to the entire app and remove any traces of our company from it. After that, we provide the app's source code, licensed to your domain.

Bug Support

To ensure that your business can operate seamlessly at every level, we offer an entire year of constant and diligent bug support to you. We are a company that is confident of our apps and our commitment to your success is absolute.

Multiple Languages and Currencies

Our team integrates the choice of local languages and the selection of local currencies in your app so that you can launch it across many countries. We ensure your business is not curbed by language or currency barriers!

Booking From Mobile and Website

Apart from the highly advanced on demand mobile app for online purchase and delivery, we also furnish you with an app that allows users to make bookings even from the website. This is an excellent tool for users who don't have the app or a smart phone.

Free Upgrade

To ensure that your app continues to thrive with time and is in sync with technology to operate flawlessly over various smart phones and their operating system versions, we offer you a free annual upgrade with the app.

And Much More

This and much more are in store for you when you purchase the Food Panda Clone app from our team. If you have something, you can even speak to us about it!
Live Demo Links of the Foodpanda App Clone Script
Why take our word for it, when you can actually test the app on your own device before you invest in it? Download the links shared below on your Android and iOS devices to experience the app first hand!
Features, Packages and Pricing
We have listed out details regarding the features crammed into the app to make it more usable and practical for your business. Take a dive and find out for yourself how this app can help you lead the market.
View Features & Pricing
One App for Various Business Formats
If something can be purchased from a store and delivered, then this magical all inclusive FoodPanda Clone app has got it covered! With the help of this magnificent app, you can now support 3 types of stores.
Launch Your Foodpanda Clone in Just One Week!
We have worked with hundreds of international clients over the past decade and established a transparent purchase and delivery process. This allows us to white label the app for you with your logo and brand name and ensure that it has all the necessary customizations, such as local currency and language integration, wallet features, payment gateways, and more, in just a week!
It has never been easier to enter the market with your fully functional and practical on-demand Food, grocery, and other goods purchase and delivery app solution with the FoodPanda Clone app script. Once you place your order with us, we take in your details and present the app to you for approval.
After that, we will launch it on the Google Play and iOS app stores under your credentials. An app launch can be tedious. So don't worry! We've got your back. We take complete responsibility for ensuring that your app will not be rejected from the app stores owing to any technical reasons!
Bouquet of Other On Demand Apps Built By Us
On-demand apps have become a necessity in today's market. We have analyzed consumer behaviour patterns and developed some of the most profitable and in-demand mobile apps to facilitate our clients' brand growth and development.
Client Reviews on Our On Demand App
Become privy to what our clients have to say about us.