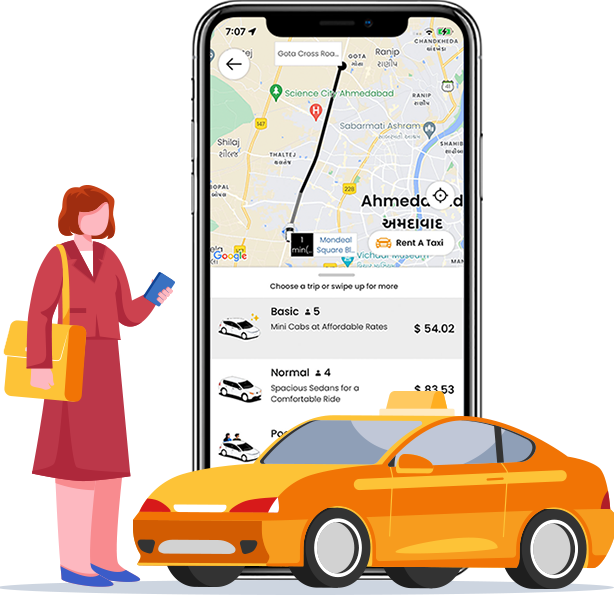 ESTABLISH YOUR OWN TAXI BUSINESS

IN JUST 1 WEEK!
We understand that you are looking for a simple, stress-free, and quick app development solution. And, that's why we assure to deliver our own DIDI clone taxi booking app in just 1 week - it's quick, it's affordable, it's yours!
Get in touch with us, raise a query, and we will quickly respond to you as soon as we get your query! To help you understand who we are and what our app does, we will send demo links of our taxi app and other useful resources attached to the email! All you have to do is use these links to download our demo iOS & Android demo apps! No need to rush! Take your own time while testing the demo apps!
We will also share details about our DID Clone taxi app, the scope, and the pricing so that you can easily decide if you want our app or not. Once you think that this app is right, we can schedule in-person meetings or Skype calls!
On purchase of the taxi app, we will take details of your brand name & logo, currency & languages you prefer, and white-label the app for you. We will then share the server access details so that you can review the app before the launch.
After your approval, we will launch the DIDI clone app on Apple App Store and Google Play Store. Post-launch, we will send you the licensed source code for one domain and finally, transfer the ownership of the taxi app to you.
WHAT YOU GET WITH THE PURCHASE OF

OUR DIDI CLONE SCRIPT?
From apps to web panels and websites, we deliver you a complete taxi business solution. Leverage the market's best technology and run a smooth business online without learning how to code! Earn solid profits with every ride booking on the system.
Want to purchase our DIDI clone app? See what you will get in our clone script package.
WE DELIVER WHAT'S

BEST FOR YOU!
We have been developing on-demand apps for more than ten years now! With our knowledge and experience, we've created a successful taxi app that is user-friendly, market-relevant, and ultimately aids in running a thriving business in any region!
Designed and coded by our team of highly qualified professionals, the DIDI Clone taxi app is created using the greatest technological stack. With a record of delivering more than 1320 successful apps to our clients, we take pride in saying that we are the industry experts.
We guarantee that every app we provide is a product of the highest caliber. We swear to uphold complete transparency and make no misleading promises. We encourage you to use our taxi booking app clone first before making a purchase decision because we value your hard-earned money! And, as an entrepreneur, you have the right to understand what you will get for your money.
We know how important it's for your platform to provide a seamless user experience, consistently. Therefore, we work hard to keep your business at the top by updating our apps with the newest technology and making them available for you on time!
Dear entrepreneur, connect with us right away if you have any questions regarding your taxi business idea.
Let's build a successful taxi app for you, together!
BENEFITS OF CHOOSING

OUR DIDI CLONE APP
We have successfully launched more than a thousand apps that are well-optimized, and fully fledged! Working with us to develop your own DIDI-like taxi app will help you launch a successful app and profitable business in just one week! Here to know what's in it for you to invest in this solution, well;
Save your time: By using our pre-built solution, you can start a profitable taxi business right away and save a tonne of time that'd be wasted solely on app development!
Save your money: Developing apps no longer require spending millions of dollars. We provide mature, advanced, and market-tested apps to you at a price that won't break the bank.
Build a strong brand: Your branding game will go a level up and without much push, you can create a platform that everyone knows about and uses daily!
Our Best DIDI Clone App

Price Packages
Our Clients Are

Always Happy with Us!
Our client's achievement and steps closer to their goals is something we take very seriously. And, we appreciate it when our clients commend us for our diligence and hard work. Hear what some of our clients from Vietnam, the UK, Indonesia, Malaysia, Egypt, Turkey, the USA, and many other countries have to say about us! Let these passionate business owners explain why we are the best!
If you have any questions concerning our DIDI cab booking app, please contact us.