Premium Additions at No Cost
Exclusive Features of On-Demand Lawn Mowing App
Uber for Lawn Care Clone App Script - Lawn Mowing App
Experience the Premier On-Demand Lawn Mowing App – a Top-Tier Solution Accredited by Apple Stores and Google Play Store. The central responsive website and comprehensive web panels boast full responsiveness, offering you unparalleled customization opportunities. This technology suite is fully optimized for seamless operation across all digital devices, providing the ultimate catalyst to elevate your Lawn Mowing Business.
This App isn't just tailored to meet your business specifications; it guarantees customer contentment and effortless access to your Lawn Mowing Care Services. Command your entire business operations through an effortlessly accessible Uber-like Lawn Mowing Script, enabling visionary decisions to fuel your future growth.
The plan package includes:
Lawn Mowing Service Website
User iOS App
User Android App
User Web Panel
Lawn Mowing Service Provider iOS App
Lawn Mowing Service Provider Android App
Lawn Mowing Service Provider Web Panel
Lawn Mowing Company Web Panel
Admin Web Panel to manage the overall working of the App i.e. Payments, Commission, Rates, Customers, Lawn Mowers, etc.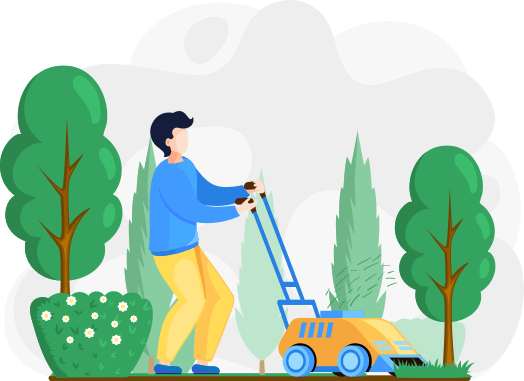 Step By Step Flow Of On-demand Lawn Mowing App
This is the workflow of an on-demand lawn mowing App that gives you a general idea of how these Apps work.
User Registration: Following installation, users can initiate their account setup by furnishing their name, email address, and chosen password. Additionally, an account can effortlessly be established through social media login details.
User Log-in: The User shall log-in using their Face ID/ Fingerprint ID or Credentials.
Browse Nearby Lawn Mowing Service Providers: Users can explore a variety of lawn mowing and care service providers in their area, and compare their services, pricing, ratings, and more.
Choose Services: The user selects the type of lawn care service they need. For example, they can choose from mowing, trimming, fertilizing, or landscaping. Once they have chosen the services of the chosen Lawn Mowing Service Provider they want, users can proceed to checkout.
Enter Detail To Receive Service: The user enters their address of where he wants to receive the services.
Checkout Process: Users have a choice of payment options, including cash, credit cards, debit cards, in-App wallets, and cash.
Book Now or Schedule Later: Users can choose to book the service immediately or schedule it for later.
Receives Confirmation: The user will be notified as soon as the service provider accepts their request.
Live Tracking: The user can track the Lawn Mowing Service Provider on real-time basis to know the progress.
Service Provider Arrives: The lawn care service provider shows up at the user's specified address and finishes the requested service/task.
Ratings & Review: The customer and the service provider both are able to reviews and ratings. Vice a versa remarking on the experience.
Allow your customers to get a manicured garden without breaking a sweat!
It's the best thing you can do for your customers! Just by investing in this App one time, you will be able to offer all your clients the easiest way of getting perfect gardens.
And every time they do, you get a big fat commission! What could be better than having a business that provides a unique on demand service to your customers and makes you a truckload of money quickly and easily! Give the chance to your customers, to use the smartest App on their smart phones with this simple yet powerful new Uber for lawn mowing service App.
This is your chance to succeed. We have dedicated highly professional experts in building this App for you so that you can take your business to newer height. We believe in your entrepreneurial acumen and are certain that you will surely leave your competition behind with our robust application.
Get Your Website and Admin Panel Demo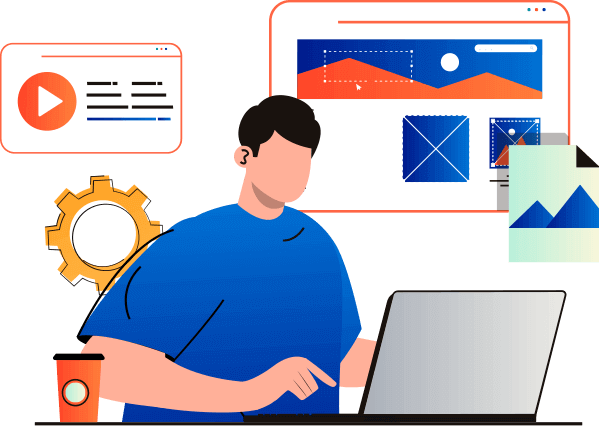 Experience the growth you desire for your lawn service business with our comprehensive On-demand Lawn Mowing App. Unveil a suite designed to elevate your services. The App package boasts an advanced Admin Panel, enabling real-time management and monitoring of your entire business operations. This is complemented by a Responsive Website that seamlessly extends your company's brand, serving as an engaging platform to display essential information.
Simplify your business endeavors within a single hub. The Super Admin assumes the role of overseeing Admin Users effortlessly. Admins wield the power to seamlessly add, modify, or remove fellow Admins, along with their corresponding permissions.
Our App bundle comes complete with an intuitive Admin Panel, offering you real-time control and insight into your business activities. Coupled with this is the Responsive Website, seamlessly extending your brand presence and readily showcasing vital company details on your official website.
What's more, we've designed the Website with utmost user comfort in mind. Our feature-rich Admin Panel empowers you to efficiently monitor and manage various aspects, including Rates, Listings, User Profiles, Commissions, and beyond. Don't miss out—request a demo of our On-demand Lawn Mowing Website and Admin Panel today, and experience the power of its robust capabilities firsthand.
Frequently Asked Questions
What is Uber for Lawn Mowing Script?

Business owners can offer users Complete On-Demand Lawn Care Services thanks to the pre-made software Uber for Lawn Care Script Solution. If you want to start a successful business endeavor without any upfront investment, the best on-demand lawn mowing care services software solution will take your business to new heights in no time.

Will you provide support after my App goes LIVE?

We will offer technical assistance after the App goes Live, as per the Plan package and Agreement.

Additionally, we offer paid support options that guarantee you enjoy an uninterrupted App experience.

What is meant by 100% Open Source Code?

We offer you 100% source code that allows you to edit, customize the App elements as per your business requirements.

How do I gain demo of the App?

Email us so that we can prepare a customized Demo for you to try out in live environment.

Does Your Lawn Mowing Care App supports Multi-lingual and Currencies?

Yes, we provide 25 different Languages and Currencies to choose from including English and USD American Dollar suiting your demographics and location requirements.

When will you Deliver my App?

If you give us with all the necessary information on time, we will have your app ready within 2 weeks. Once the App development formalities are done, you can instantly go live.

What is the cost of the On-demand Lawn Mowing App Development?

The Lawn Mowing App's price varies depending on a number of variables, including the features you want to integrate, the technological stack, payment integration, etc. However, we take care to avoid spending money that is not essential.

How does our Greenpal Clone App can help you establish your business in a short time?

If you invest enough time and effort into using our Greenpal Clone App for lawn mowing services, you might earn hundreds or even thousands of dollars. However, businesses may engage with a big number of customers because to the worldwide reach that comes with digitalization. This is a ground-breaking idea, so you can make billions while steadily growing your company.

How V3CUBE ensures confidentiality?

To ensure Client Confidentiality, we follow Industry Norms by signing a Non-disclosure Agreement (NDA). We operate under NDA Standard Practice.

Your list does not include My Query. I want more specifics.

You can reach us at [email protected], and we'll respond to your questions within one working day.

Will I be able to scale the business using this Lawn Mowing App?

Yes, our on-demand applications are specifically created using scalable app technologies that let you grow and extend your business without fuss or additional costs.
Testimonials that Shine
Client's Feedback that Warms Our Hearts