Our On-Demand Flower Delivery App: Free Features
White-Labelling

We will host the Flowering App Solution and website on your Servers and list them in the App Stores under your Name.

NDA & Privacy Policy

We maintain strict compliance with NDAs and Privacy Policies, ensuring that we neither claim ownership of your Apps nor include them in our Portfolio.

Feedback and Rating System

Once the Service is marked as Complete, both Users, Delivery drivers and Stores have the option to rate and review each other within the App.

Preferred Languages

Based on the regions where you plan to launch your App, we will include up to 25 languages of your choice at no extra charge.

Preferred Currency

Depending on the regions where you intend to launch the App, we will incorporate up to 25 currencies of your choice at no additional cost.

App Rejection Support

In case your App gets rejected for technical reasons, we will provide assistance to resolve the issue and ensure its Approval.
Complete Range of Flower Delivery App Package
The Flower Delivery App Package offers a comprehensive solution for florists and delivery services to effortlessly manage and enhance their Flower Delivery operations. If you're looking for a turnkey solution to start your own On-demand Flower Delivery business, then our App Plan Package is the perfect choice for you. We take care of the technical aspects of building your App, so you can focus on growing your business.
Our complete App package equips you with all the essentials to launch your very own on-demand flower delivery venture. With User-friendly Interfaces for Customers/Users, Delivery Drivers, Stores, and Administrator, along with a Responsive Website, you'll possess a all-encompassing package to offer a delightful floral ordering and delivery experience, all while efficiently managing your delivery operations.
The Online Flower Delivery App Package comprises several major components that will be provided to you. By adopting this extensive package, you are sure to witness the boom in the delivery orders.
Native iOS Customer App
Native Android Customer App
Customer Web Panel
Native iOS Delivery Driver App
Native Android Delivery Driver App
Delivery Driver Web Panel
Native iOS Store App
Native Android Store App
Store Owner Web Panel
Manual Booking from Store Panel
Main Responsive Website
Ordering from Website
Manual Booking from Admin Panel
Billing/Accounts Administrator Panel
Administrator Web Panel to manage all Apps & Web Systems, Payments, Rates, Customers, Drivers, Stores, Reports, Settings etc.
How the Flower Delivery App works
User Registration and Login The Users download the App and register an account or log in using their Face Id/Fingerprint or Credentials.
Browsing Nearby Florist Store Users explore various categories of florists in nearby areas.
Choose Items (Flowers/ Bouquet) The User will choose a specific bouquet or floral arrangement they like and adding to their cart.
Checkout process Users review the order, make any final adjustments, and proceed to checkout using their preferred payment modes (Credit/Debit/ In-app Wallet/Cash).
Book Now – Placing The Order The User will place the order by tapping on "Book Now".
Store Confirms The Order/ Order Confirmation Once the store "Accepts" the order, the user receives the Order confirmation.
Order Processing The Store/Florist start preparing the flower bouquet according to the customer's preferences.
Delivery Assigned & Pickup A nearby delivery driver/ person is assigned to the order. The delivery person receives all relevant details along with the recipient's address.
Live-Tracking The user can track the Flower Delivery Driver on real-time basis to know the delivery person's progress.
Order is Delivered The delivery driver arrives at the recipient's/user's location. After the delivery driver gives the Customer the order (flowers) and updates the delivery status as "Completed".
Feedback and Review The User, Delivery driver, and Store can rate and review each other once the service is marked as Complete in the App.
Best App Development Company
Expand & Grow Your Floral Business With Our Floral Delivery App
Have any suggestions? We will create for you an amazing online Flower Delivery application that users will keep using. Our customer-centric strategy, reputation, and guarantee have earned the trust of business owners, directors, and CEOs. With designs that provide income and expand consumer bases, we assist businesses in expanding by introducing them to the mobile App market. With our all-encompassing solutions, let us assist you in catching up to your rivals.
We're talking Apps with turbocharged features that are as easy as pie to use.
100% Customization of the App, so that your business remains profitable all the time
We do the fancy tech stuff without breaking the bank.
We're talking top-notch technologies, developing an Advanced-tech Flower Delivery Apps around.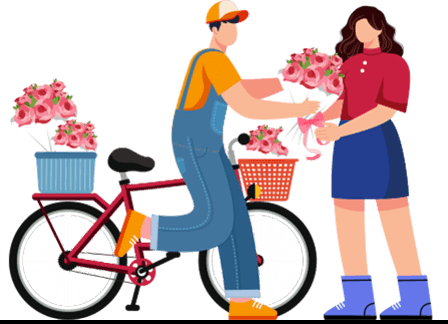 Explore Our Flower Delivery Script
In Real-time Through Our Comprehensive Demo
Purchase Your App with Only 4 Simple Steps
Learn About The Buying Process Of V3Cube's Authentic Script
Download the App and Test Them in Real Environment

Prior to making an order, download our demo Apps from App stores and test them on various devices. Inform us whether you prefer the Standard Apps or those with Customization. We can modify the Apps at a cost-effective rate.

Languages & Currencies You Prefer

Our Apps are currently available in English and USD. However, we can integrate other languages and currencies of your choice to suit your demographics and location thus allowing you to reach a wider audience and increase its reach.

Provide Server, Play Store and Your Logo

Once the necessary procedures are completed, provide us with your Server and Play Store information. Our team will then construct the App featuring your logo/brand name, configure it accordingly, and proceed with the uploading process.

Publishing App under Your Brand Name on the Google Play/ Apple App Store

We'll ensure the approval and launch of the App on your Play/App Stores. Once the Apps are successfully installed on their respective Stores, you can begin generating a lucrative commission from services booked through your App.
Contact Us Now